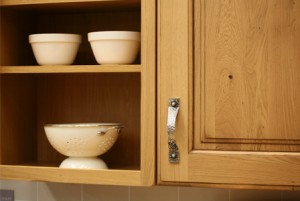 You don't have to redo your whole kitchen in order to update and decorate it. If you're working on a budget and have pressed time, try just installing new hardware on all the drawers and cabinets. This makes it look better and can also help you match the rest of your color themes better.
Some people just HATE having their garbage out in the open. If you're one of those people, then here's a great solution! Cut a chute or hole in the counter and then place the garbage directly beneath it. That way, the garbage can be hidden, and the chute cover can be a decoration too!
Add color and texture instantly to any room with some well-placed decorative pillows. They can vary in size, shape, and color, as long as they complement one another and look good on the furniture and in the room.
Spruce up your bedroom by adding (or improving) a decorative headboard. You can do this by simply painting it, or get a little more creative by using different and unique materials. You can make this as simple or as intricate as you want.
Want a nightstand but can't find the perfect one? Expand your resources by considering a wastebasket turned upside down! It will look identical to a nightstand, and you can even paint it to get the color and style that you want.