1. Simple Shower Cleaning
Use a dish wand to tackle the grime found in your shower. Joyful Cleaning  recommends filling the dish wand with vinegar and liquid soap. You can even scrub while in the shower. Hooray for multi-tasking.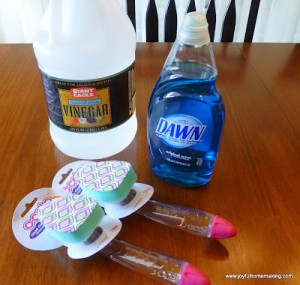 2. Clean Shower Head Buildup
If your shower head doesn't seem to do more than dribble hot water, it may be time to clean the shower head! Fill a bag with vinegar and tie it around the shower head. The vinegar will break down any hard water deposits.