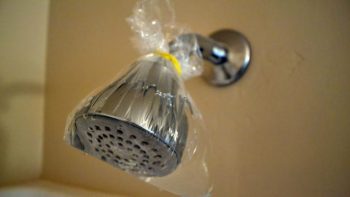 A super easy way to clean your shower head is to use vinegar and a baggie. Simply fill the baggie with vinegar and tie it around your shower head, making sure it's submerged. Let it sit for a few hours and your shower head will be all clean!
Combine your favorite essential oils with baking powder. Sprinkle the mixture on your mattress, let it sit for a few hours, and then vacuum it up. This helps clean and deodorize your mattress.
Mix one part vegetable oil with two parts baking soda to make a fantastic gunk remover. Simply put it on a toothbrush and scrub it into any parts of your home with gunky and stinky stains.
If you have a carpet stain, try this. Get a towel wet, put it over the stain, and then use the iron. This should help steam the stain out of the carpet.
Use a dryer sheet to clean your baseboard. Not only does it clean them, but it also helps them stain dirt and dust free for longer!