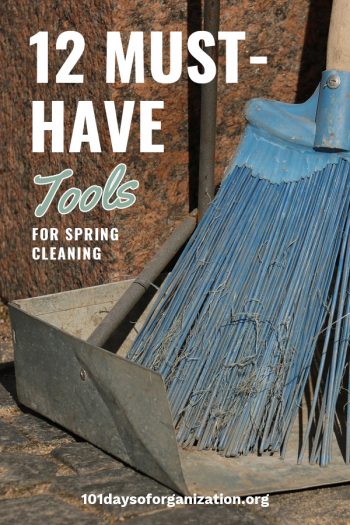 1. Sponges should be on everyone's must-have list for spring cleaning. If you can, keep a variety of types available. Sponges with a softer side and a scrubber side are very practical.
2. A squeegee is an awesome tool to keep in your cleaning kit. It's great for shower doors, house windows and car windows.
3. A supply of white cotton towels is essential. They are lint-free and can be used in a variety of ways, from drying wet areas to buffing stainless appliances. When they get dirty they are easily bleached and disinfected for the next job.
4. Microfiber cloths can dust, pick up pet hair and buff items that you don't want scratched.
5. Spray bottles are extremely handy for spraying water on needed areas and for mixing and using your own cleaning solutions.
6. A bucket is pretty much a non-negotiable item in my spring cleaning arsenal! It is so versatile and will help you do all your cleaning jobs more easily. Plus, a rectangular shaped bucket like this one will accommodate a mop more easily than a round one.
7. An old toothbrush is one of the handiest cleaning tools you can have. Its small size lets you access tiny crevices that a regular scrub brush can't get into. Just be sure to label it as a cleaning brush so no one mistakes it for a toothbrush they can put in their mouths.
8. Sometimes a towel or sponge won't do the job, so a bristly scrub brush is exactly what you need on tough spots.
9. A good broom is always important for both inside and outside cleaning jobs. One that comes with a dust pan is an obvious plus.
10. Another obvious choice to have around for spring cleaning is a mop. I appreciate a mop like this one that is self-wringing.
11. A good vacuum is always needed around the house, and this bagless variety by Bissell won't disappoint.
12. A duster with an extension handle to help you reach high spots such as ceiling fans and cabinet trim is a big helper when spring cleaning rolls around!