Hand sanitizers have been around for ages. However, it was only after the COVID-19 pandemic shook the world that hand sanitizers literally ran out of stock everywhere. People hoarded on them like anything. The panic around the Coronavirus was real. People were trying anything and everything they could to keep themselves safe. The idea of homemade hand sanitizers sprang up when people couldn't find any of it in their local stores. They did their research and got to know that they can make homemade hand sanitizer with essential oils. The recipe and method were very simple, and they could be done in just a few minutes.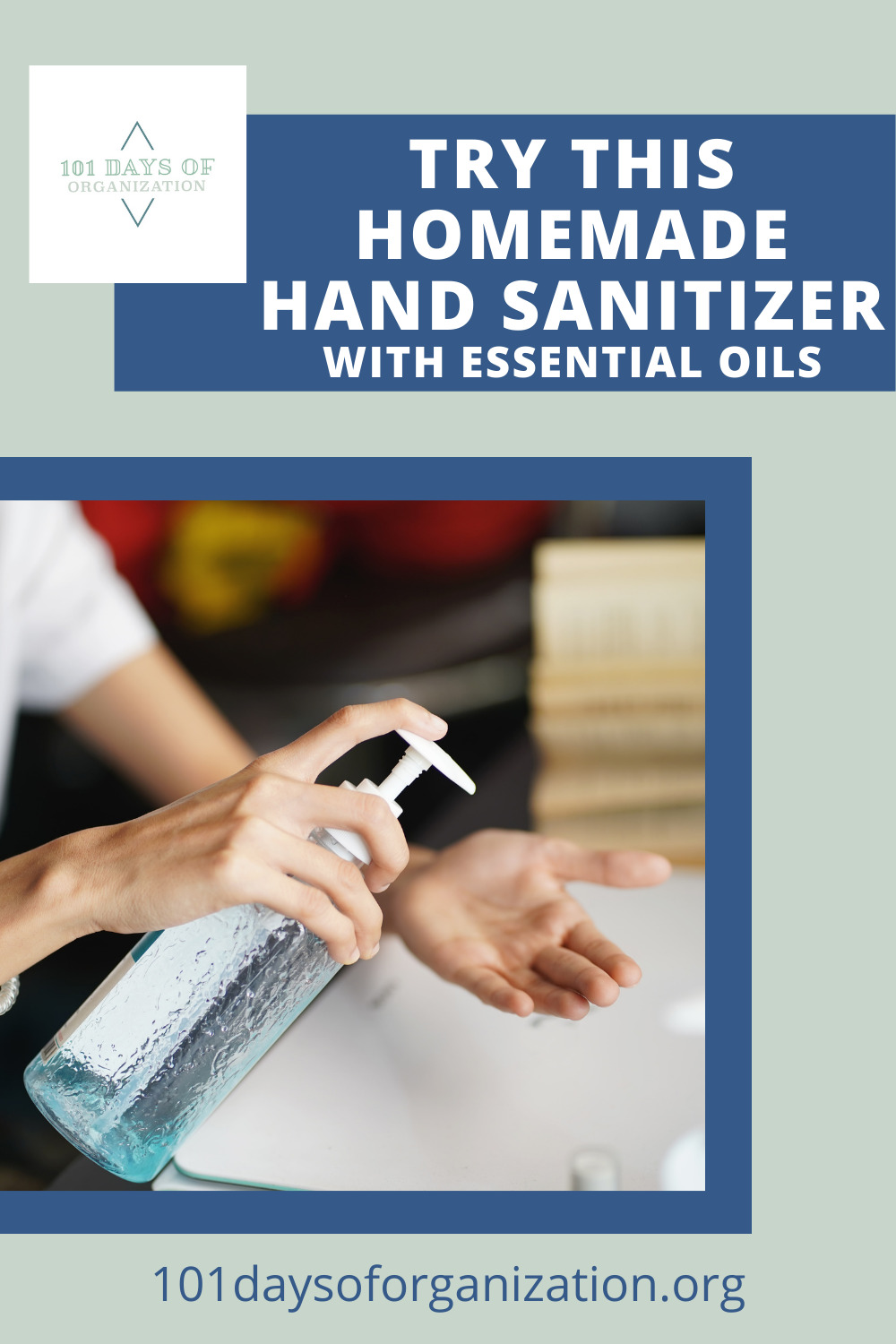 You've come to the right place if you wish to make sanitizer at home. This blog post will help you understand if homemade sanitizers are really effective and safe.
Is Homemade Hand Sanitizer with Essential Oils Safe and Effective?
The efficiency of the sanitizer you make at home depends on how closely you follow the recipe. A sanitizer should have at least 60% alcohol. If you use alcohol lower than 60%, it won't be effective in killing germs.
Another important factor that affects the safety and efficiency of a homemade sanitizer is the utensils you use. Your utensils should be cleaned thoroughly. The sanitizer will be contaminated with dirt and germs if you use unclean utensils.
Moreover, homemade sanitizer can damage your skin if you don't use the ingredients in the right ratio. You must mix Aloe Vera gel with your homemade sanitizer. Raw alcohol can leave your skin feeling dry. You've got to measure all ingredients carefully and in the right ratio.
Your homemade hand sanitizer with essential oils will be safe and effective in killing germs if you follow the recipe and instructions closely.
Recipe of Homemade Sanitizer with Essential Oils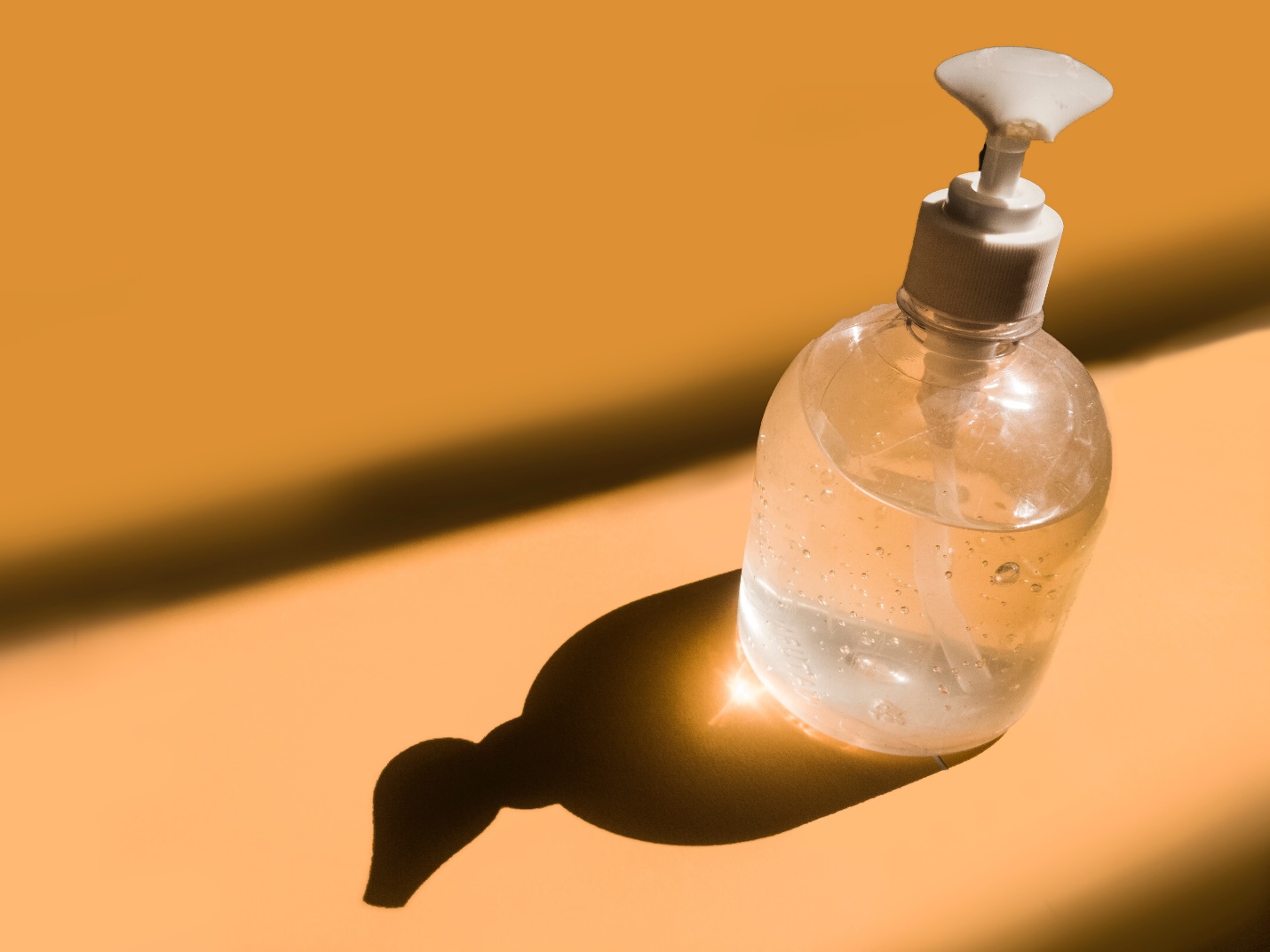 Making sanitizer at home is very easy and quick. You don't need any expensive ingredients either. Below is a list of the basic ingredients that you'll need to make sanitizer with essential oils at home.
Alcohol
It's the key ingredient that you need to make a homemade sanitizer. Alcohol will disinfect and sanitize. As mentioned earlier, you need at least 60% alcohol to make an effective sanitizer. Anything below 60% won't work. You can use alcohol of a higher percentage as well for a stronger effect against germs, bacteria, and viruses.
Aloe Vera Gel
Aloe Vera gel is a very vital constituent of a homemade hand sanitizer with essential oils. It forms the base. Therefore, you should use natural and pure Aloe Vera gel to make sanitizer. Moreover, it ensures that the sanitizer doesn't damage your skin. Raw alcohol can irritate your skin or leave it feeling too dry. Aloe Vera gel moisturizes your skin after you use the sanitizer.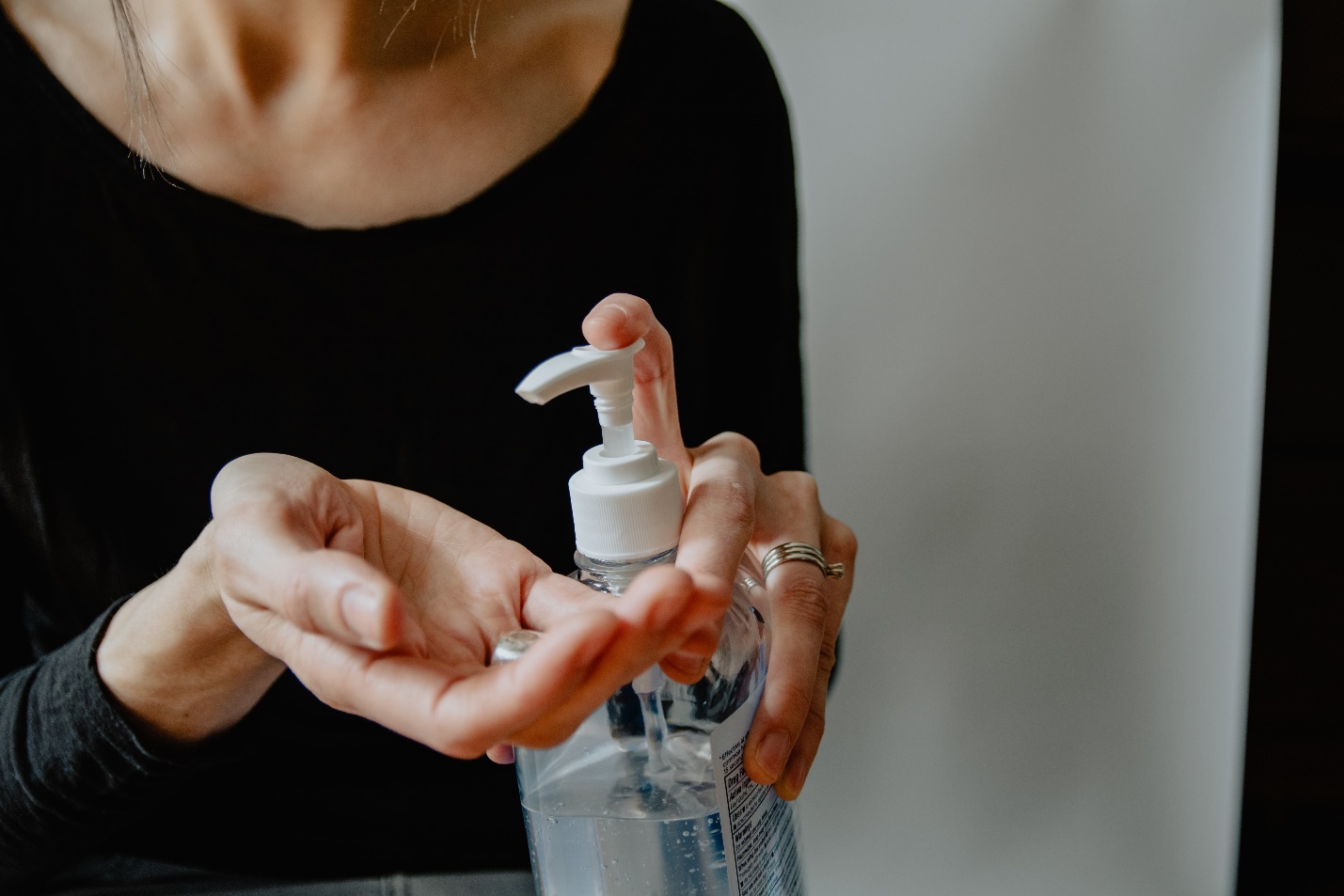 Essential Oil
Different essential oils have different properties and characteristics. Not all essential oils are antimicrobial, antibacterial, antiviral, and antiseptic. However, that's everything that you want your sanitizer to be. So, choose an essential oil that's all of this and also smells good!
Carrier Oil
You can't use essential oils as is. They're very strong and shouldn't be applied to the skin directly. Dilute the essential oil in a carrier oil before adding it to your homemade sanitizer. Some common carrier oils that you can use include jojoba oil, sweet almond oil, and coconut oil. Carrier oil will also counterbalance the effect of alcohol by moisturizing your skin.
Glycerin
Essential oils should be dispersed evenly throughout the alcohol. Glycerin does the job of dispersing essential oils all throughout the alcohol. Moreover, it forms a protective layer over the skin and moisturizes it.
Vitamin E
Your sanitizer can go rancid because there are plenty of oils in it. Add a few drops of vitamin E to slow down the process of rancidity. It'll ensure that your homemade sanitizer with essential oils lasts longer.
Benefits of Adding Essential Oils to Homemade Sanitizer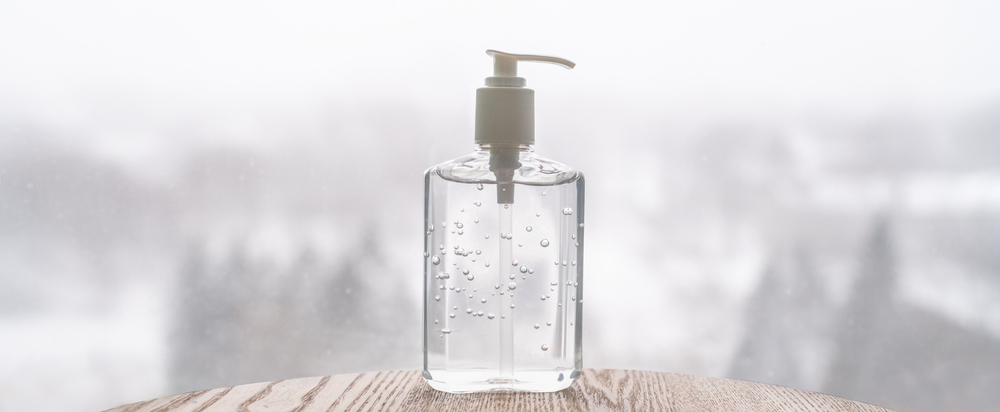 Some sanitizer recipes don't include essential oils. However, essential oils are an excellent addition to a sanitizer.
Replenishes Nutrients and Moisture
We can't stress enough that alcohol is a harsh ingredient that's pretty tough on the skin. Most alcohol-based commercially available sanitizers contain humectants to counterbalance the tough character of alcohol. They prevent the alcohol from stripping away all the moisture from your skin. Your homemade sanitizer contains Aloe Vera gel and glycerin that serve as humectants. However, essential oils not only replenish the lost moisture but also replenishes nutrients and soothes your skin.
Provide Excellent Antimicrobial Effect
Some essential oils have excellent antimicrobial properties that enhance the efficiency of your homemade sanitizer. A sanitizer is supposed to kill microorganisms (bacteria and viruses) that may cause diseases. You can greatly reduce the risk of bacterial and viral infections with a homemade sanitizer with essential oils.
Make Your Sanitizer Smell Good
Essential oils are widely used in aromatherapy. They've got an extremely pleasant and soothing fragrance. You can make your sanitizer smell great with essential oils. The smell of alcohol might be too strong for you. However, with essential oils, you can have a pleasantly smelling sanitizer at your disposal at all times!
How to Make Homemade Sanitizer with Essential Oils?
You can easily make sanitizer at home. Simply follow the steps listed below, and you're good to go!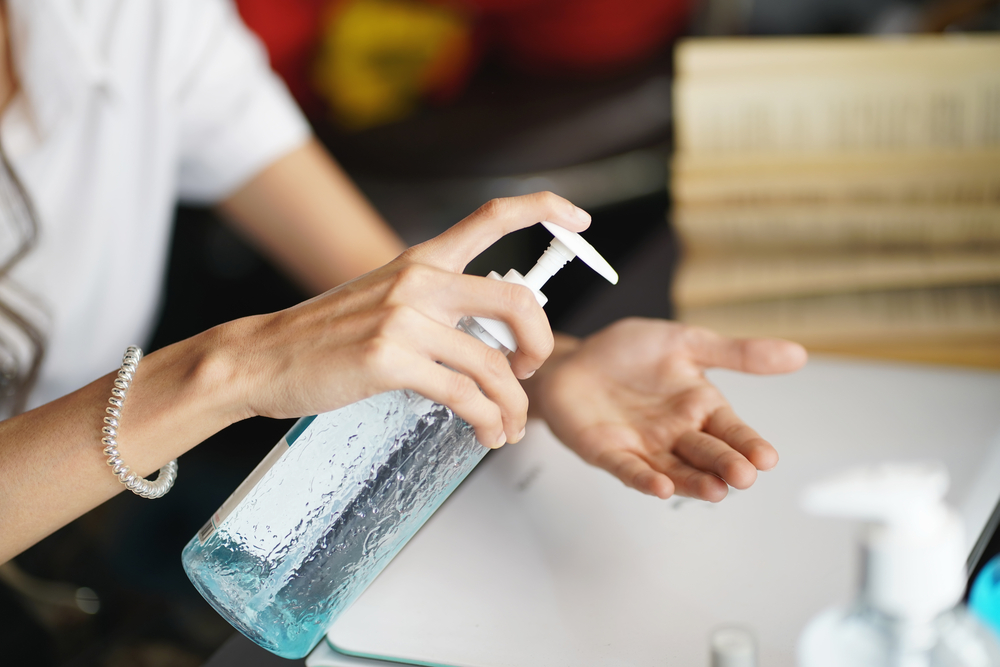 Step 1: Gather All Ingredients
Gather all ingredients before you begin. You'll need the following:
Spray bottle
Small funnel
Alcohol
Aloe Vera gel
Glycerin
Vitamin E
Essential oils
Carrier oil
Step 2: Clean the Utensils and Tools
Clean the spray bottle, funnel, and the measuring spoon or cup that you'll use to make sure there are no traces of dirt or germs. Therefore, we suggest you sterilize all the utensils and tools beforehand – just to be sure.
Step 3: Measure and Mix Ingredients
Add ½ teaspoon of the carrier oil (fractionated coconut oil, jojoba oil, or sweet almond oil) into the spray bottle
Next, add 2 teaspoons full of Aloe Vera gel
Add 10 to 12 drops of essential oil. You can either use any one essential oil or a blend of multiple essential oils. Some of the most effective blends for sanitizer include tea tree oil + lavender oil + lemon, eucalyptus + rosemary + lavender, cinnamon + clove + eucalyptus + lemon + rosemary + orange
Add 2 to 3 drops of Vitamin E
Add ½ teaspoon of glycerin
Step 4: Makeup the Volume with Alcohol
The contents of the spray bottle at this point will only fill nearly half of the spray bottle. Fill the rest of the bottle with alcohol, put on the bottle closure, and shake well.
Step 5: Label the Bottle
You should always label your sanitizer bottle to avoid any confusion.
Which Essential Oils Can You Use to Make Homemade Sanitizer?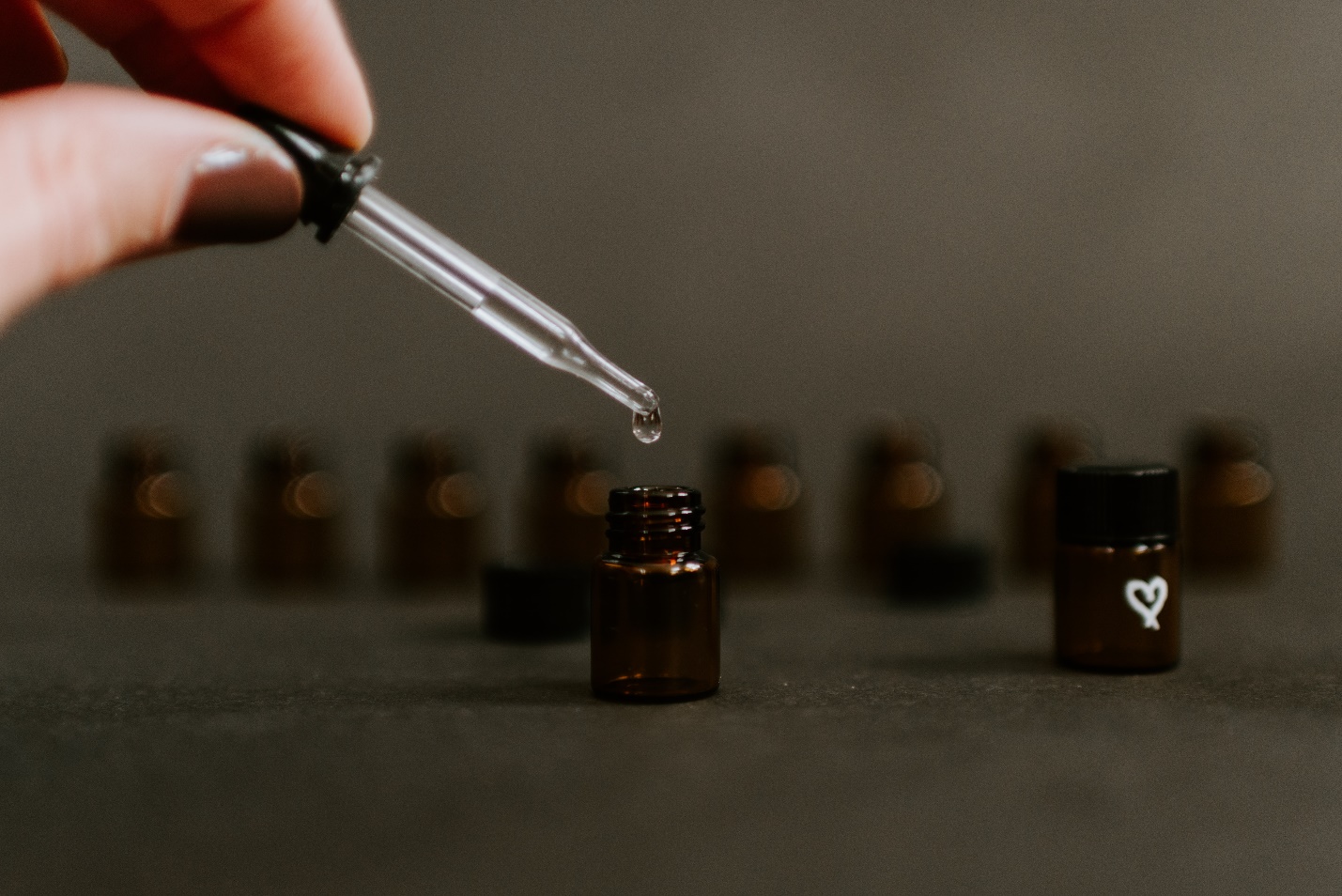 As we've mentioned in the beginning, not all essential oils are equally effective at sanitizing and disinfecting. Therefore, let's have a look at some of the best essential oils that you can use to make homemade sanitizer with essential oils.
Tea Tree Oil: It's one of the best essential oils to add to your homemade sanitizer. It has got excellent antimicrobial, antifungal, antibacterial, antiviral, and antiseptic properties. You can use it to make hand sanitizer and disinfectant wipes.
Lavender Oil: It's antibacterial, antiviral, antifungal, antimicrobial, and antiseptic in nature.
Eucalyptus Oil: It's antifungal, antiviral, antibacterial, antimicrobial, and antiseptic.
Cinnamon Oil: Cinnamon oil is one of the most widely used essential oils to make homemade sanitizer because of its pleasant fragrance and antiseptic, antimicrobial, antiviral, antibacterial, and antifungal properties.
Clove Oil: It makes a great constituent for homemade sanitizers because of its antifungal, antibacterial, antiviral, and antiseptic properties.
Thyme, geranium, wild orange, and rosemary oils are also great options.
How to Use Homemade Sanitizer With Essential Oils?
Shake the bottle well every time you use it to make sure all the ingredients are thoroughly mixed
Only use a dime-sized amount of sanitizer. Don't use too much of it.
Rub it on your hands for 30 seconds, making sure you cover every part, including the parts between your fingers.
Wash your hands before applying sanitizer if they're greasy or soiled. The sanitizer won't be effective otherwise.
Frequently Asked Questions about Homemade Sanitizer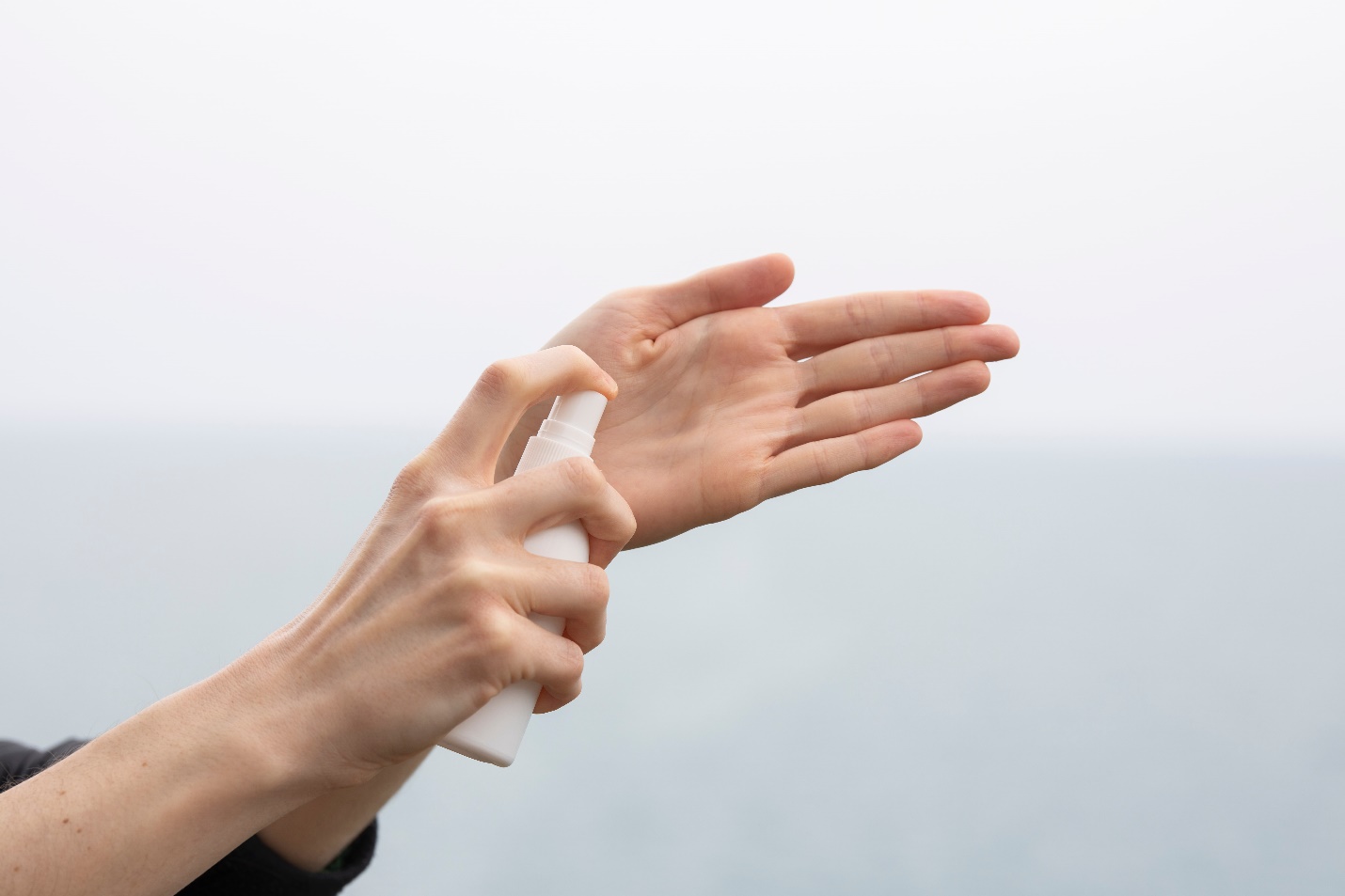 You may have some questions in your mind if it's your first time making a sanitizer at home. But don't worry, we've got you covered. We've tried to answer some of the most frequently asked questions that people have regarding homemade sanitizers.
What can I use in place of rubbing alcohol to make homemade sanitizer?
Don't worry if you can't find rubbing alcohol. You can use 190-proof grain alcohol (ethanol) instead. Mix ¾ cups of ethanol with ¼ cup of Aloe Vera gel. Just make sure that the ethanol is 190-proof grain. Only the 190-proof grain ethyl alcohol has germ-killing abilities (as per the CDC). Any other types of alcohol like butanol are toxic.
What should I do if my sanitizer is too thick?
You can make the consistency of your homemade sanitizer with essential oils thinner by adding more rubbing alcohol. Add only as much rubbing alcohol that you need to achieve the desired consistency.
Can I use fresh Aloe Vera gel instead of a commercially available one?
Yes. You can use fresh Aloe Vera gel. However, make sure to use all of the homemade sanitizers that you've prepared using it within 1 to 2 weeks. Moreover, you can't leave this homemade sanitizer out at room temperature. You'll have to store it in the refrigerator.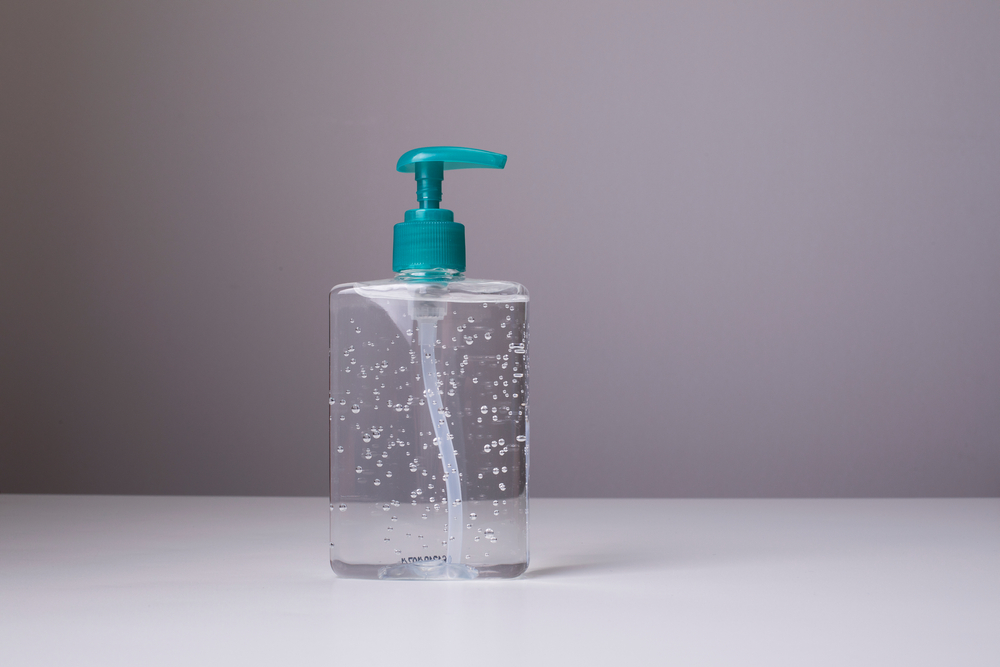 How long does homemade hand sanitizer with essential oils last?
If you're using commercially available Aloe Vera gel, your homemade sanitizer can last as long as 1 year, provided that you don't add any water. However, if you're using fresh Aloe Vera gel, the shelf life will be much shorter. Homemade sanitizer with natural Aloe Vera gel usually lasts for 1 to weeks.
What's the right way to store homemade sanitizer?
You don't have to store homemade sanitizer in the refrigerator if you use it up really quickly. However, if you're preparing it in bulk, you should store it in a refrigerator.
While you can always buy sanitizers from stores, making a homemade sanitizer with essential oils will be much cheaper. You can buy the ingredients in bulk and mix up a batch every time you run out of your sanitizer. There's no need to go to the store to restock. It's convenient, cheap, and super-easy. So why not try it yourself?