Just because you have a tiny kitchen, doesn't mean you have to sacrifice where design is concerned. In fact, great design will help you maximize the space you have! Let me show you 12 design tricks I found, made just for super tiny kitchens.
1. Space in your kitchen that typically goes unused needs to be looked at with new eyes. For instance, the space on the end of your kitchen cabinets is a great spot to hang pots and pans! Do this and you'll free up a lot of space in your cabinets for other things.
2. Here's another example of wasted space. Instead of letting all that wall space around the fridge go unused, install some shelves or even some extra cabinets.
3. A rolling cart masquerades as a kitchen island, and it's perfect for a small space. If you ever need it moved out of the way, it's no problem at all! This cute cart is a DIY project from Paper Daisy Designs.
4. Even a small nook in the kitchen can be put to excellent use. This adorable little breakfast nook from Dear Lillie is the perfect example.
5. Another space-saving way to hang pots and pans is to use the ceiling. It's also attractive when you use something like this vintage ladder to hang them from.
6. Pale paint colors give you the look and feel of more space wherever you may need it most, including the kitchen.
7. Turn the edge of a counter or a pass-through space into eat-in space by adding a board. Corbels give it a permanent look and feel. Now all you need is a couple of stools!
8. If a larger table won't fit in your space, consider a drop-leaf table. It adds instant extra eating space when you need it, and folds out of the way when you don't.
9. Cute kitchen tools with design flair are the ones you can sneakily store on the counters or on the tops of your cabinets, and no one will be the wiser. They'll be too busy admiring them!
10. This kitchen takes advantage of sleek, minimalist cabinets to achieve a mirrored effect that reflects light and makes the space feel much larger than it actually is.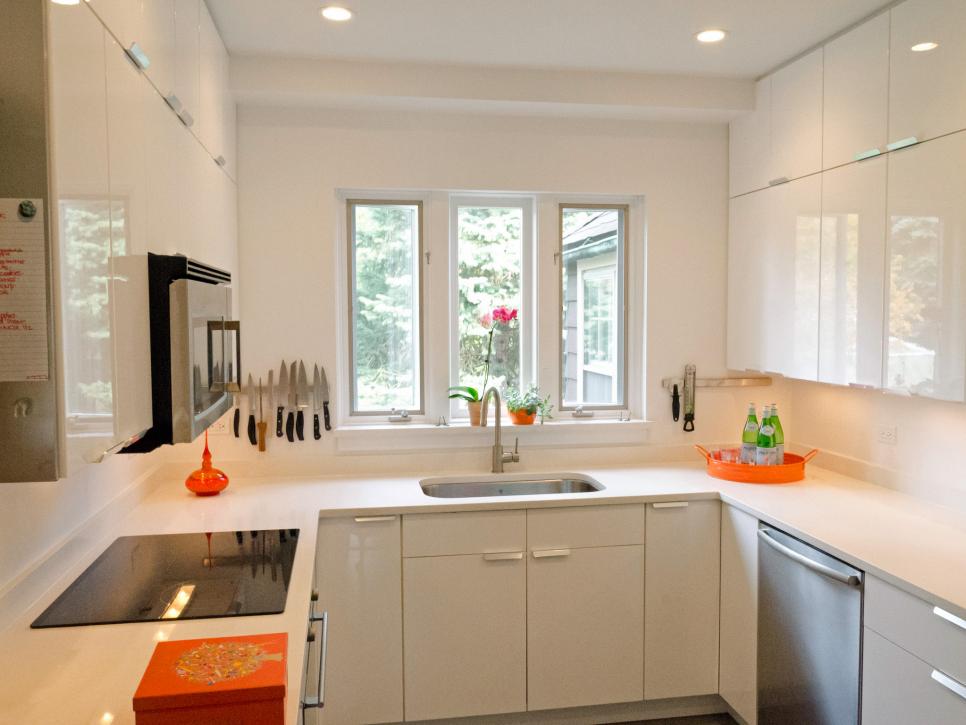 11. Lucite chairs are amazing in any room where you want to create an invisible effect that adds instant space for the eye.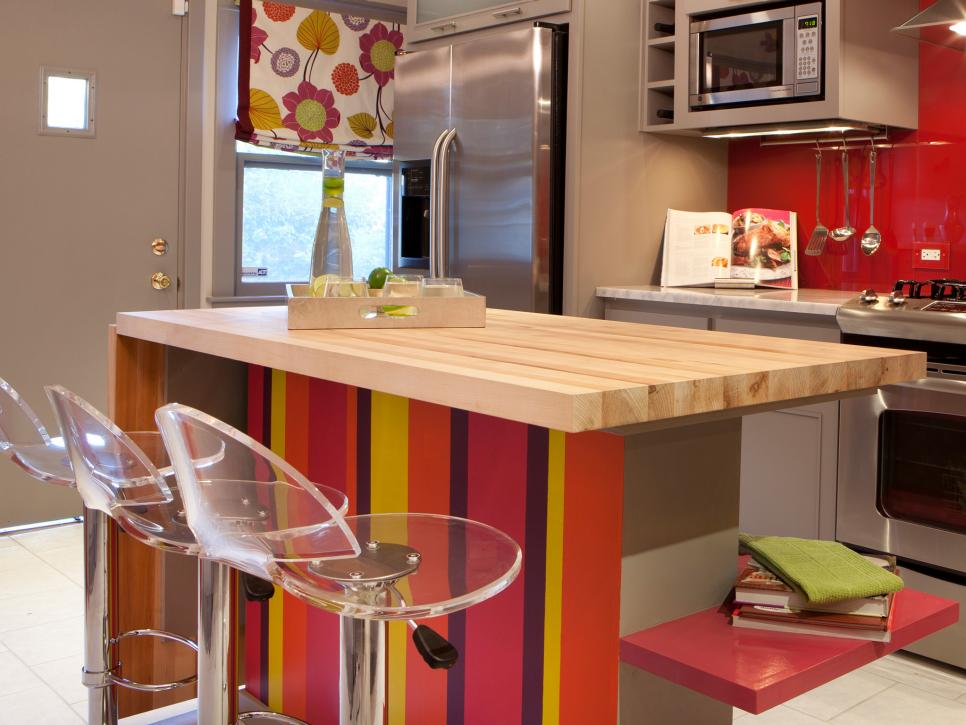 12. If you can, take advantage of reduced-size appliances that fit the space and keep it from feeling even smaller.