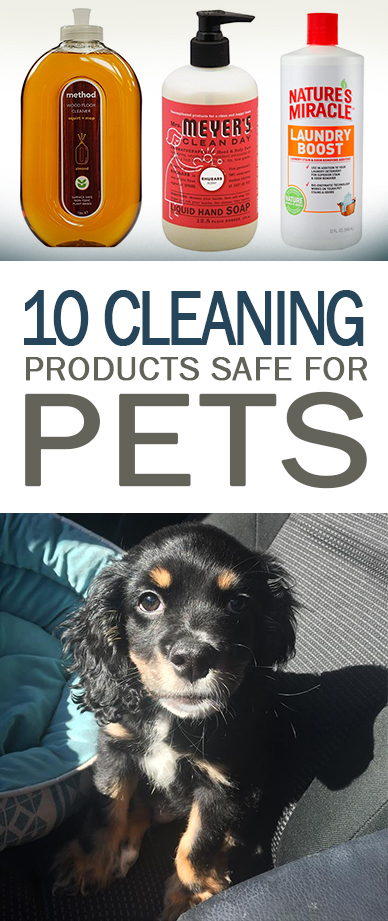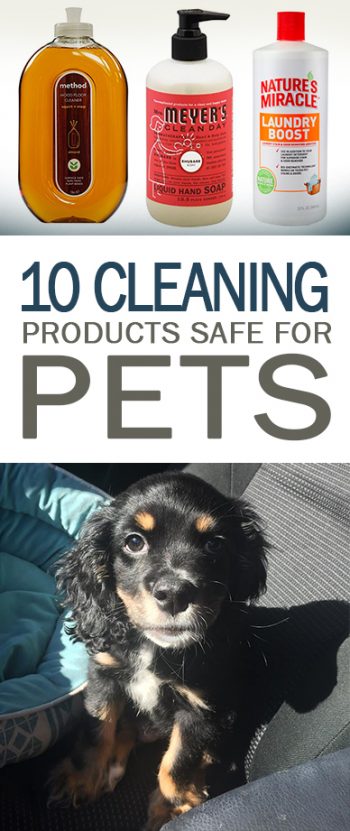 If you are a pet owner, then you understand the need for cleaning products that won't harm them. It's necessary to clean up after those furry family members, so it's even more important to know about chemicals present in some cleaning products that make them harmful to pets. You should always avoid such chemicals as formaldehyde, rubbing alcohol, and bleach, but what chemicals are safe? To help you, I've rounded up a list of 10 cleaning products that are safe for pets.
1. If your pet sheds, then you already know that something that will pick up the hair and help keep the floors clean without harming Fido is a bonus. Enter the Swiffer Sweeper with disposable dry sweeping cloths. The hair, plus any dust and lint readily stick to the cloths, but no harmful chemicals are included.
2. For those inevitable pet stains on carpets and rugs, you need something that removes odors but won't harm the pet that caused them. ATTITUDE is a completely natural cleaner that removes pet odors while being hypoallergenic for people and pets. No worries!
3. Sometimes those wood floors need more than just a Swiffer. Here's a cleaner made for wood floors that smells amazing, yet won't harm your pets because it's plant-based and non-toxic.
4. Mrs. Meyer's cleaning products are known for being free of harmful chemicals such as parabens and phosphates. Clean Day Tub and Tile Cleaner is no different. Plus, it has an amazing lavender scent!
5. Nature's Miracle Laundry Boost is a bit of magic in a bottle because it helps to break down the odors on things that your pet has slept on or soiled, like blankets, sheets or dog beds. After washing, you don't need to worry about residual chemicals that could harm your pet.
6. Sometimes there are stains and cleaning jobs that just need the power of bleach. Ecover makes a bleach without chlorine, so it is safer for your pets.
7. Ammonia is harmful to pets, so where does that leave your windows? Still clean, with the help of Method natural glass cleaner. The only thing left behind is a fresh scent!
8. Clean your hands without worrying about petting Fido right after. Mrs. Meyer's Clean Day Liquid Hand Soap is safe for him and you, and leaves behind nothing but a fresh rhubarb scent.
9. A good multi-surface cleaner is an essential part of any cleaning arsenal. This one is effective, yet not harmful to your pets.
10. Finally, cleaning wipes are an awesome quick-cleaning solution for busy households. Green Works biodegradable wipes are non-toxic for you, your pets, and the environment.