You know those little plastic bread tags that come on your store-bought loaves of bread? Are you throwing them out when the loaf is gone? Because you should definitely re-think that! Those little tags are actually quite handy around the house, and I'll show you how. Here are 10 cunning ways to use your old bread tags. You'll be amazed that you didn't think of it first!
1.Those tags are amazing for labeling all the electrical cords you have plugged into your power strip. Never again will you need to guess which cord is the right one, or try to trace it back to the source. Easy peasy!
2. Keep your earbuds from getting tangled by storing them in a bread tag. It's such a smart idea!
3. If you have a bunch of loose rubber bands floating around in your junk or office drawer, corral them with a bread tag. It keeps them neat, tidy, and in one place.
4. When you keep spare keys, it can be hard to remember what they were for. Avoid that hassle by labeling your spare keys with bread tags.
5. Help your kids learn their math by making an abacus-like contraption with string and bread tags. This is a genius idea that really works!
6. At Christmas time, bread tags make cute snowmen to keep your bags of goodies for the neighbors closed. Aren't they just so festive?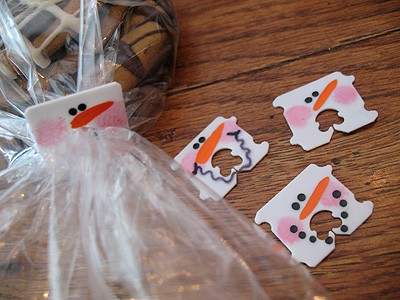 7. A bread tag taped to your desk or work area keeps cords and wires handy when you aren't using them.
8. Use a bread tag to mark your knitting or crochet project when you need to put it down for awhile.
9. Keep thread, twine, and small ribbon scraps organized.
10. Reinforce your flip flops with a bread tag. It keeps the strap from pulling through the bottom.
Here's a list of our resources for this DIY post:
One Crazy House {electrical tags}
Pinterest {earbud organizer}
The Star {rubber band organizer}
Jewel Pie {spare key label}
Chicken Babies {math manipulators}
Crafts By Amanda {bread tag snowmen}
Diply {desk cord holder}
Pinterest {knitting tags}
Pinterest {thread holder}
OCfied {flip flop reinforcement}