1. Use cork board from your local office supply store, along with some brass tacks and baker's twine. Mount the cork board to the inside of a cabinet door using Command Strips. Hang measuring cups and spoons conveniently from the tacks using the baker's twine. Awesome!
2. Pot lids can be a big pain to keep organized, so this tip is absolutely genius. Use Command Hooks mounted on the inside of the cabinet where you keep your pots to hold the matching lids.
3. Make use of the space on the inside of a cabinet door to organize rolls of garbage bags. Just use curtain rod brackets and a 1/4″ wooden dowel, cut to size, to hold the rolls.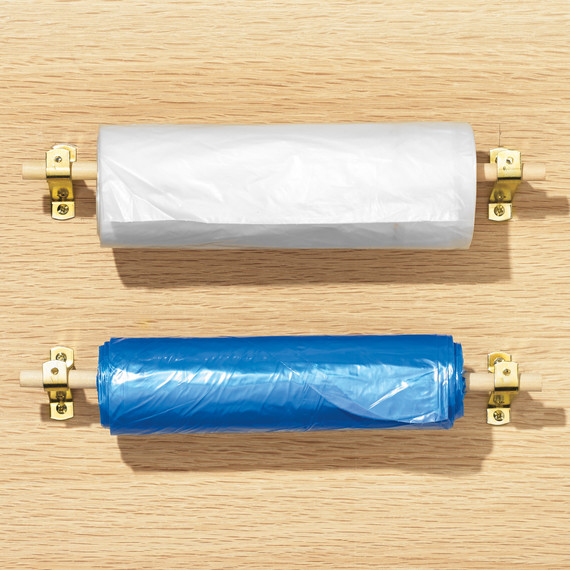 4. No more disorganized, hard to find spices! Use metal strips mounted to a cabinet door to hold magnetic spice jars.
5. This cabinet is much more organized with the addition of hooks on the doors to hold cooking utensils, racks for spices, and a magnetic board to hold recipes and other notes.
6. Here's a handy way to store cutting boards. It's inexpensive and you can put it together in minutes.
7. Cut a clear plastic storage box in half, and mount one half to the back of a cabinet door for convenient storage of your plastic wrap, foil, and plastic storage bags.
8. Make a cabinet door message board. It's convenient and easily concealed when you have guests over.
9. A towel rack on the back of the cabinet door underneath the kitchen sink is insanely convenient for all those times you need an extra towel….quickly!
10. This is a handy tip for the kitchen or bath. Just hang a small wastebasket from the back of the cabinet door for quick access that doesn't take up precious floor space.