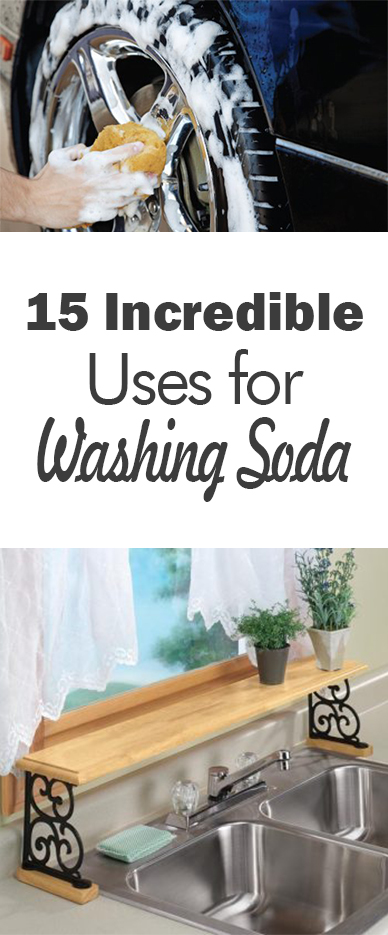 Washing soda is a versatile product with many uses in and around the home. It is also known as sodium carbonate, but is more widely called washing soda because it's mainly used in laundry. However, there are other incredible ways to use washing soda. Important to note, washing soda will scratch aluminum or fiberglass, so don't use it on those surfaces.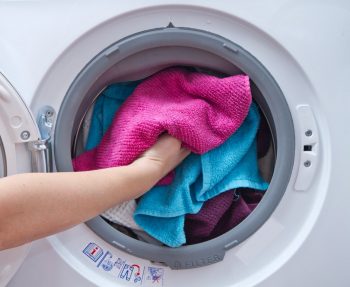 Use washing soda as an ingredient in homemade laundry detergent. You can find a grater-free recipe here.
Washing soda is a great stain remover all by itself. Soak heavily stained linens or other items in a solution of washing soda and water overnight, then launder as usual. Washing soda will get out tough stains like coffee, tea, ink and blood.
Washing soda has been used for a long time as a water softener. Add half a cup to each laundry load with the amount of detergent needed for soft water. Your regular detergent will be much more efficient with the addition of the washing soda.
In the kitchen, keep your drains and disposal running clean and fresh with washing soda. Pour half a cup down the drain or disposal, and then flush with water. If you have clog, use a whole cup of washing soda and flush the drain with boiling water.
Scrub your chopping boards with a washing soda solution to remove lingering food odors.
Use washing soda and hot water to wash your glassware. It will come out looking so shiny!
Not only can you make homemade laundry detergent with washing soda, you can also make homemade dish washing detergent!  Here you'll find a recipe for DIY powdered dish washing detergent.
Wash range hoods and exhaust fans weekly with a solution of a half cup washing soda dissolved in one gallon of hot water. This will keep your hood and exhaust fan free of grease and  gummy residue.
To get rid of greasy, burned-on stains on your (non-aluminum) cookware, put a couple spoons  of washing soda in the pan, along with an inch or two of hot water and a squirt of liquid dish soap. Bring it to a boil and then simmer for 15 minutes.
A stronger solution of washing soda and water is effective at cleaning and freshening your plastic trash cans.
Use a washing soda solution to clean your wicker patio furniture each season. As a bonus, the washing soda helps to tighten up the cane that contributes to sagging seats.
To clean up barbecue grill racks, scrub them with washing soda sprinkled on a scrub brush.
Washing soda can help remove the grime left by dead bugs on your windshield. A mild solution is all that is needed. Use care not to get the solution on paint.
Clean non-aluminum wheels with a regular washing soda solution. It's great at removing grease.
Washing soda is good for removing stains on concrete. Sprinkle washing soda liberally over the stains, then add a little water to make a paste. Allow the paste to sit on the stain overnight. In the morning, use a damp brush to scrub the stain, then rinse well.