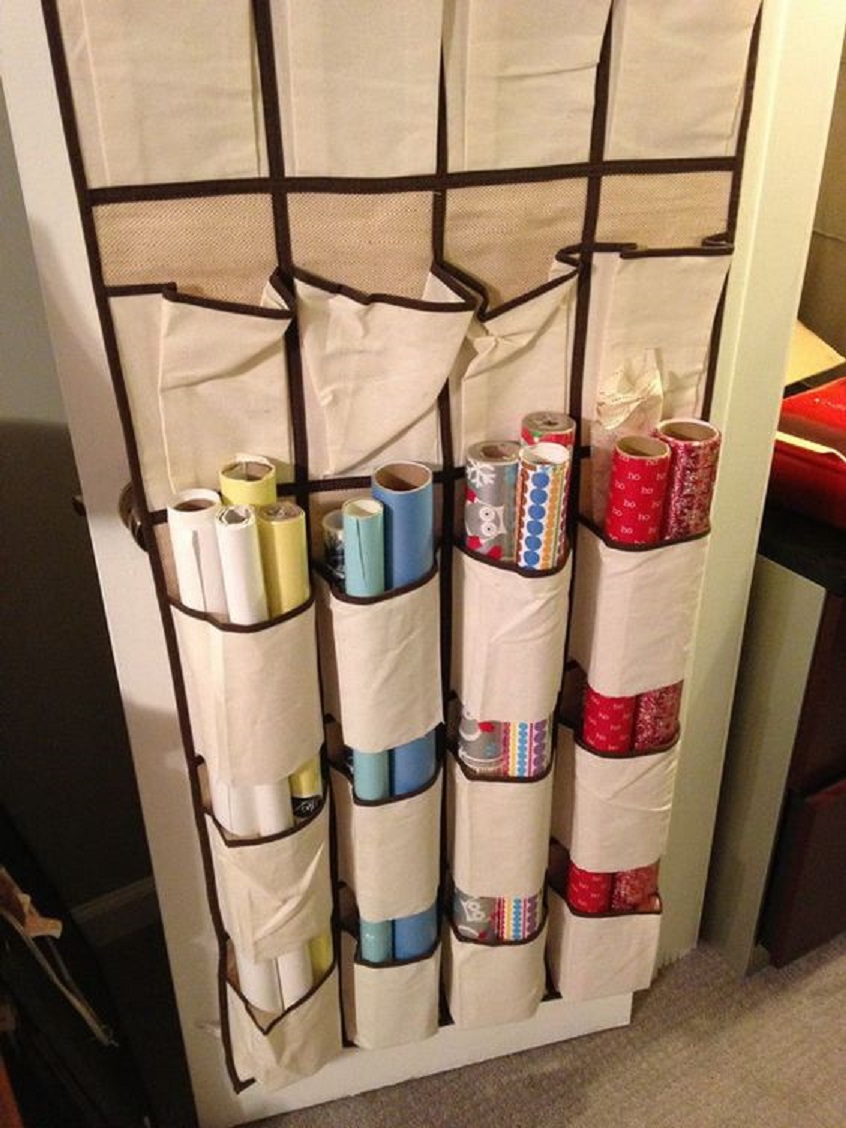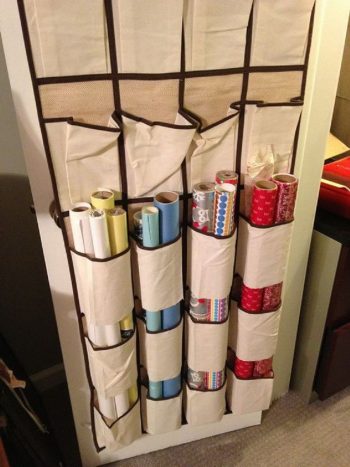 Turn an old over-the-door organizer to store your wrapping paper! Simply cut holes in all of the pockets except for the bottom ones and then slip the wrapping paper into the tubes!
Get any kind of basket (wicker, wire, etc.) and turn it into a fantastic wrapping paper organizer. You can push it up against a wall and it's out of the way until you need it.
Utilize a rolling organizer to not only store your wrapping paper but also give it easy access. You just store everything away and roll it out when you need it.
Take wiring shelving, flip it, and you can now use it as a makeshift cage to store your wrapping paper against the wall or back of a door. Genius!
Garment bags, if they're big enough, are great for compactly storing wrapping paper and other supplies. Just slide the tubes inside it and you're good.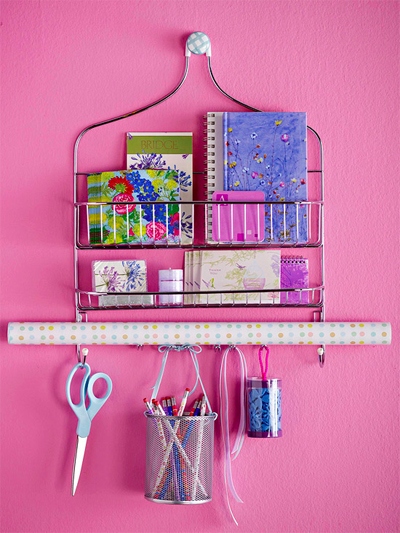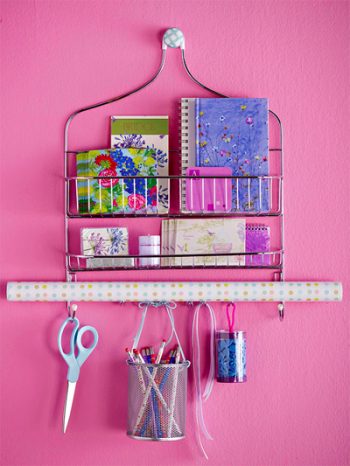 Turn a shower caddy into an amazing wrapping paper organizer. Attach hooks to the bottom that clip onto the tubes of wrapping paper and then hang it wherever it's needed.
Take a nice crate and use it to store your wrapping paper. Push it against the wall of a closet or back room to more easily be stored away.
If you have empty space at the bottom of a dresser, then use it to store your wrapping paper. Simply organize everything in the drawer until it all fits neatly!
Turn those inexpensive grocery bag holders into a great storage device for wrapping paper! You just slide in as many as you can until they're tightly packed away.
You can mount a rack or organizer on the wall to take up as little space as possible but still allow you to get your wrapping paper all organized.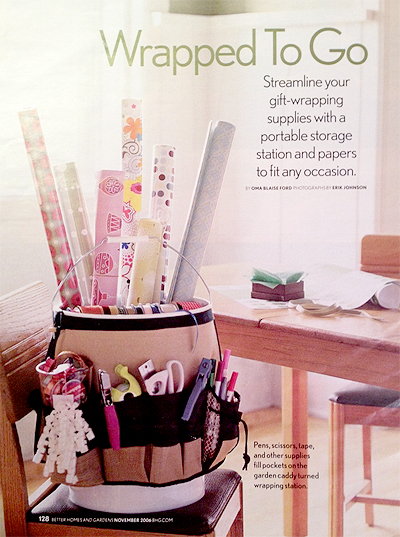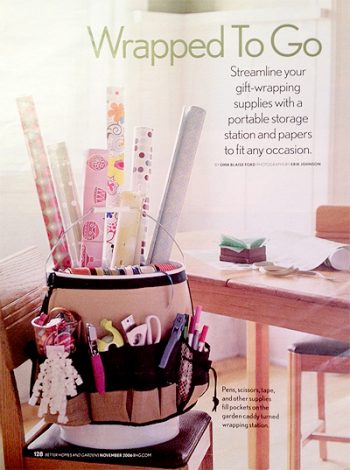 Turn a plastic bucket into an incredible mobile wrapping paper station. You can hang pockets around the outside of the plastic bucket to store things like tape and scissors as well.
Use some pegboard to mount storage for your wrapping paper. Just put it on the wall and then attach hooks or other items to store the wrapping paper.
Convert an old tool box into a wonderful wrapping paper organizer. You'll want the longest tool box possible, since the tubes of wrapping paper are pretty long.
Take tension rods and stretch them across the small wall in your closet. Stick the wrapping paper behind the tension rods, and you're good!
Turn your wasted ceiling space into your wrapping paper storage! Just attach a few wires to the ceiling and then slide your wrapping paper behind them.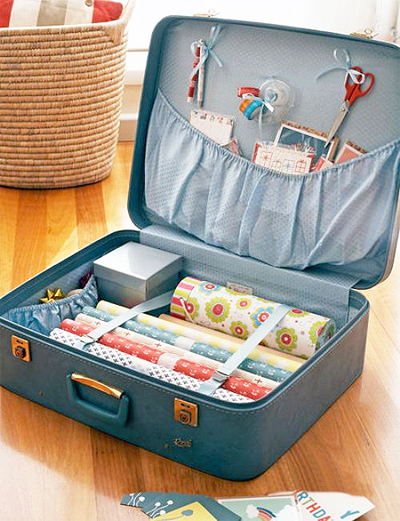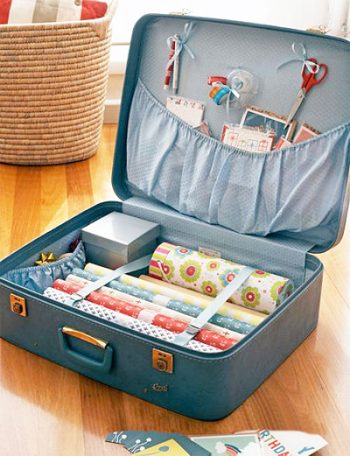 If you have an unused suitcase, turn that into a wrapping paper storage station! You can fit tons of supplies in there and it won't be in the way at all!
Hang some sort of organizer from the back of your door to store your wrapping paper. You can get pretty inexpensive door organizers that help keep your wrapping paper in order.
Simply slide a wire or bungee cord across a small section of your wall and then put the wrapping paper behind it. It keeps the wrapping paper in place without having to worry about them all falling over.
Use dowels and rods to store your wrapping paper horizontally. Not only does this provide storage, but it also allows you to easily access the wrapping paper without a hassle at all.
Buy an old trunk or storage bench from the thrift store and use that to store your wrapping paper. You can touch it up as much as needed to make it look great and still be practical.