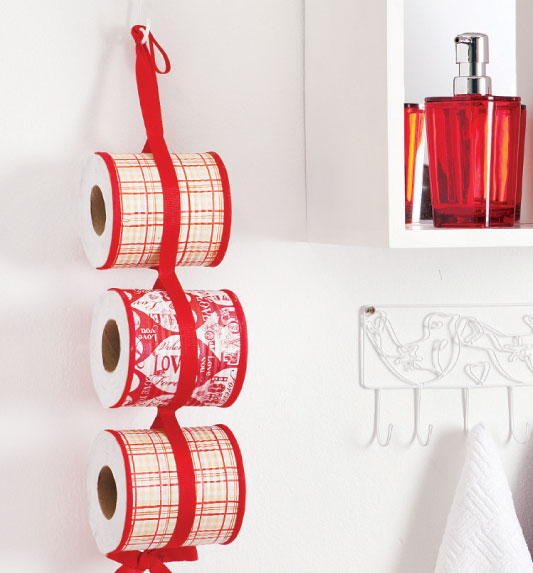 Use some big, tin cans you have (like from powered drinks or coffee) and then decoupage them with some cute paper that matches your bathroom. Then you can place toilet paper inside and tie them together with ribbon.
Install sliding racks into some of your kitchen cabinets. This will help you to conveniently store some pots and pans because you can hang them from the racks. They will be easy to access and help you fit a lot more in your cupboards.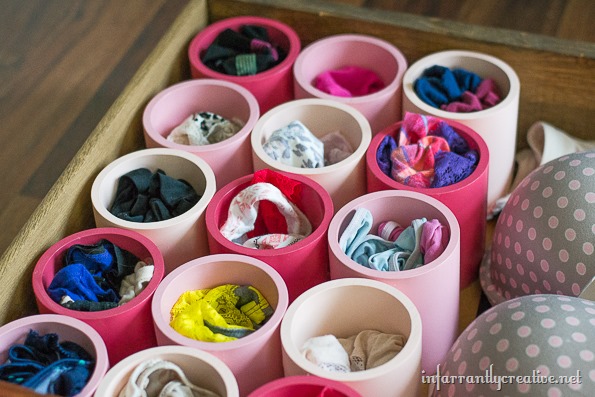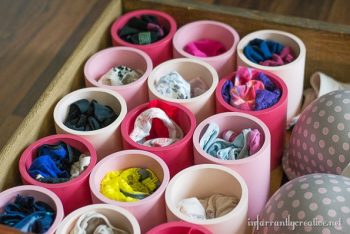 Use some PVC pipes to maximize your underwear storage. You can paint them to make them fun colors and hot glue them in place if you want it to all be one piece. Underwear rolls up so nicely inside of them, you can fit a lot more in your drawer, it and keeps it all nice and organized.
Use some hooks to store measuring spoons in your cupboards. This is an easy way to add some extra storage, and use space you already have! They will be easy to get to, and in a great location when you are cooking.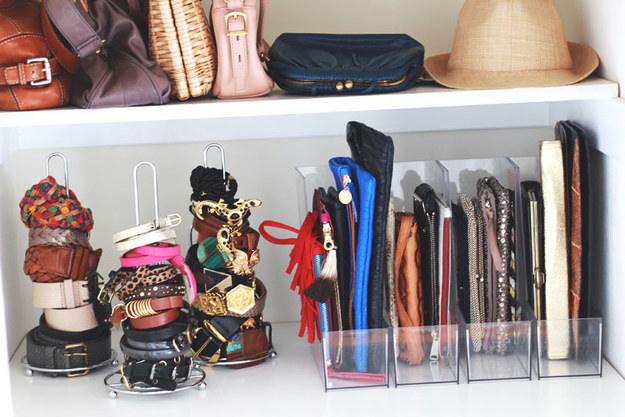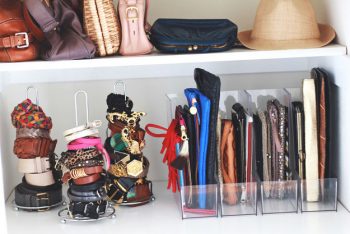 Use paper towel holders to store your belts and bracelets. They fit on nicely, keep them organized, and help you make more room in your closet or jewelry area.
Store your shower products in a shoe organizer! Make sure to get one that is waterproof. This will keep all of your bathroom products nice and organized.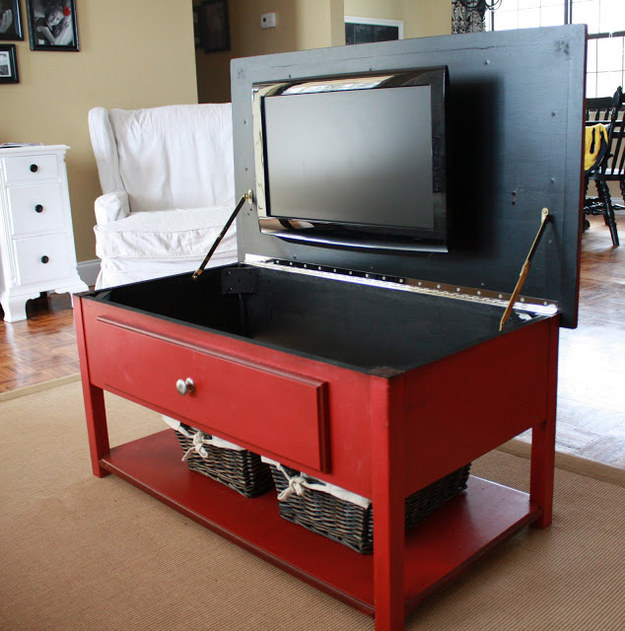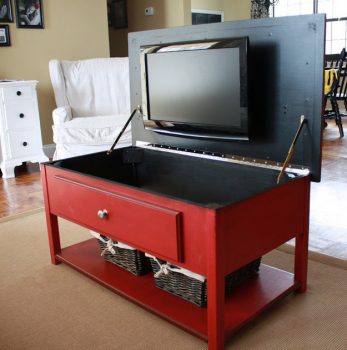 Put your TV inside of a table. It stores away nicely, saves a ton of space and is easy to flip up or down when you decide to put it away.
Use magnetic strips to store your bobby pins and tweezers in your bathroom. This way you won't loose them, and will have them stored all in one space. They stick perfectly to magnets and will help your bathroom stay organized.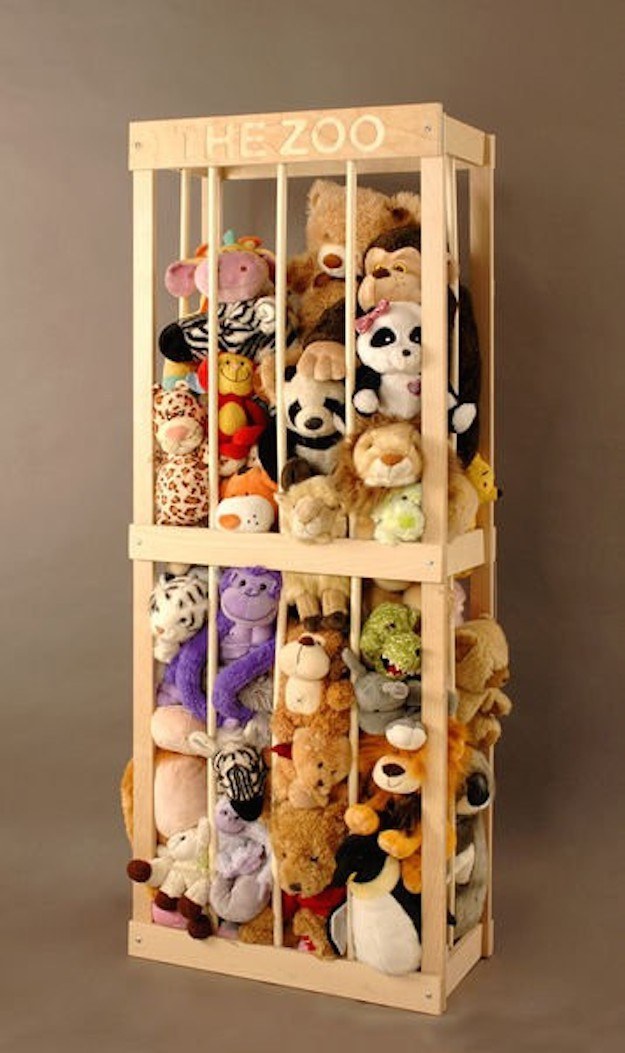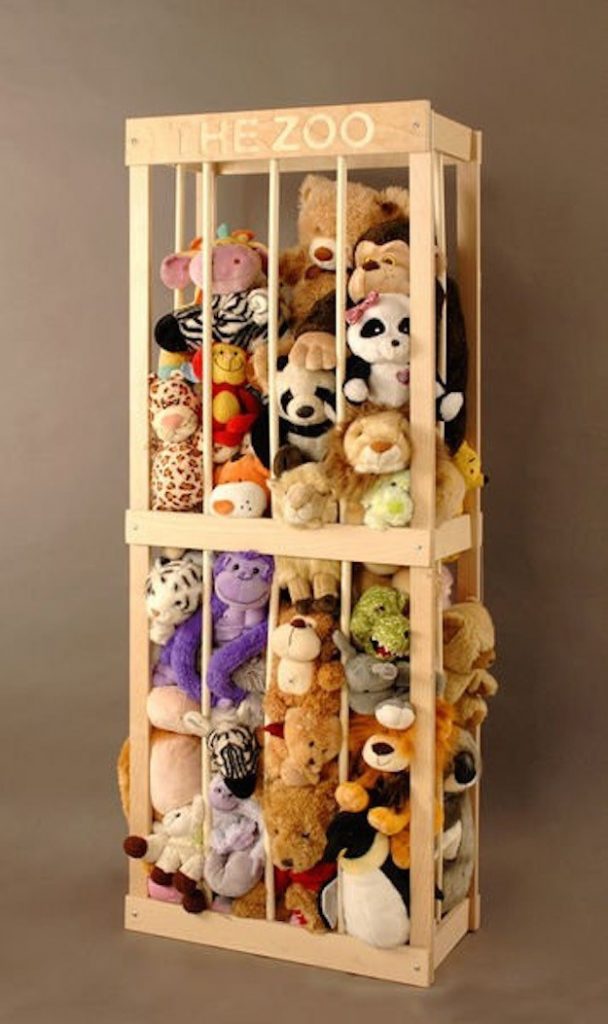 If your children loved stuffed animals, make a "zoo" area for all of them to be stored away when they don't have them out. This idea is really cute and can easily be done with wooden dowels for the bars or with bungee cords.
Put some pull out hampers in your laundry room or bathroom that you can slide in and out. You can store all of your dirty clothes inside and keep them all in one place, which will be easy to access when you need to do laundry.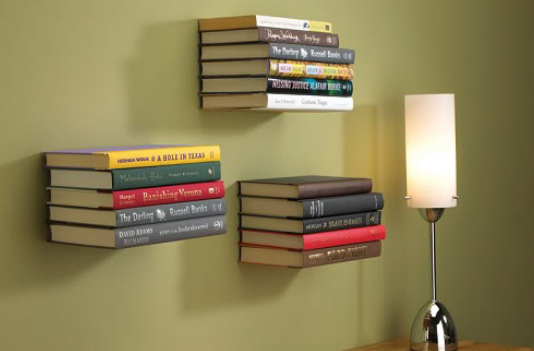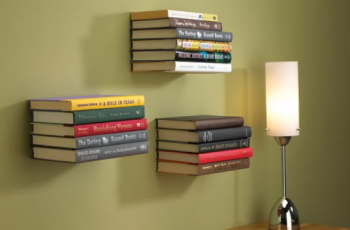 Make some floating, invisible bookshelves for storing all of your books! This is nice because it doesn't take up more space and it's super easy to do. All you need are some metal wall braces you can attach to your wall and then you place your first book around it, and stack the others on top.
Get a storage ottoman! These are great for some extra storage and make a nice addition to your home too. You can use your ottoman in place of a table or decoration. It can add a nice touch to a room while also giving you an extra place to store things.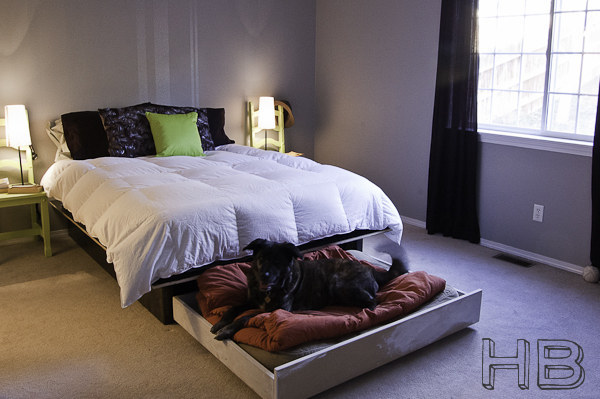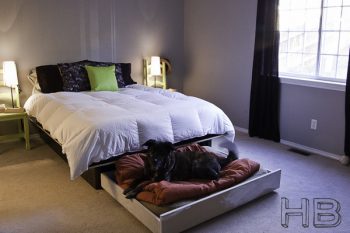 Put a dog bed underneath your bed that can be stored underneath during the day, and extended out at night. This is nice because you can keep it tucked away, looking tidy and clean whenever you need to.
Use a pegboard to store any oddly shaped toys your kids have. Pegboards make it easy to hang things up and give you extra vertical storage without taking up too much room. You can paint them easily too so that it blends in well with the rest of your decor.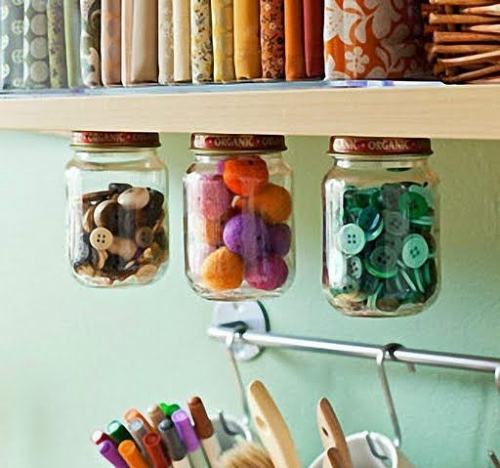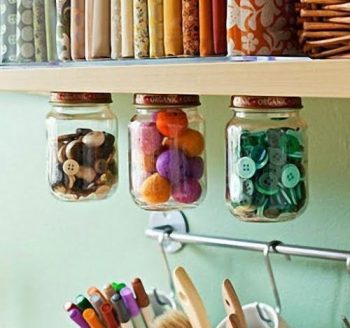 Hot glue some jar lids (or attach them with magnets) underneath your cabinets to add some storage space for jars. You can fill them with anything you need and then screw off the bottom parts of the jars when you want to use what's inside, and then screw them right back on to keep them in place.
Keep your printer in a drawer in your house. Drawers that have doors on them are the best because you can open and close them, but it will also blend in with your other drawers. You can keep your printer tucked away and out of sight this way. It's a nice, disguise storage area .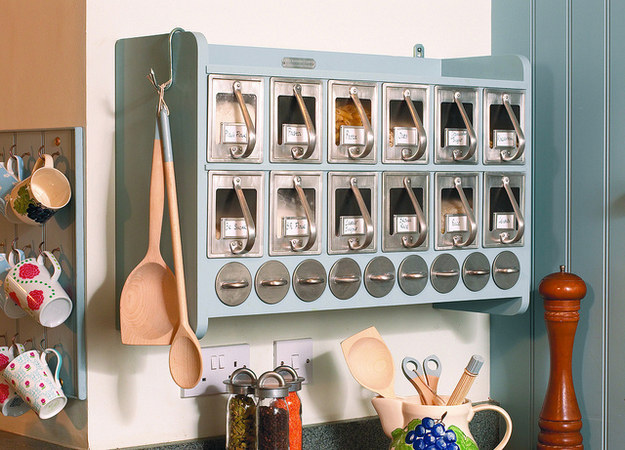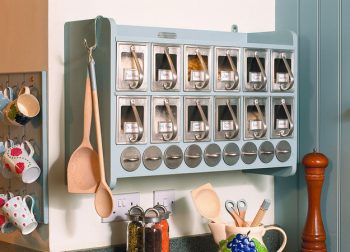 Keep baking supplies and dry goods in a mounted cabinet in your kitchen. This will help you keep everything stored in one place and get rid of cluttered boxes, bags, and other containers your dry goods come packaged in.
Turn a chest into an elaborate filing cabinet in your home. You can get lots of storage space from a chest, and nobody would ever guess you have files in there! This keeps your important documents protected more while also not having to take up lots of space with a huge filing cabinet.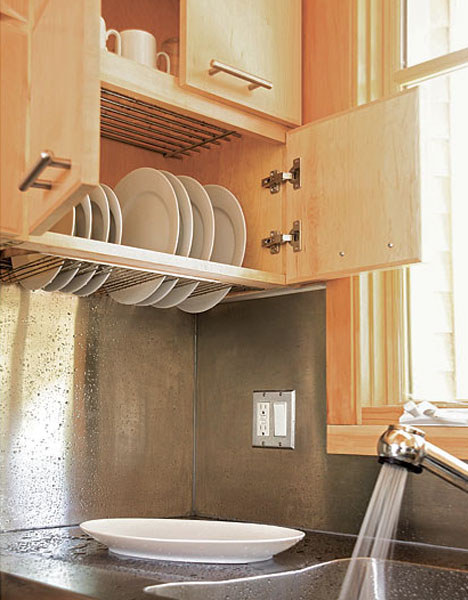 Put a storage cabinet to dry dishes right above your sink. Air drying is the most sanitary way to dry your dishes, and in this location the water will drip into the sink. How convenient!
Put a Lego container under your kids bed. If you find a short but big container that can slide out from and under the bed, you can keep all of the lego pieces in one place so they don't get lost or spread out all over the house. It stores nicely under the bed too so that it looks clean when they aren't playing with Legos.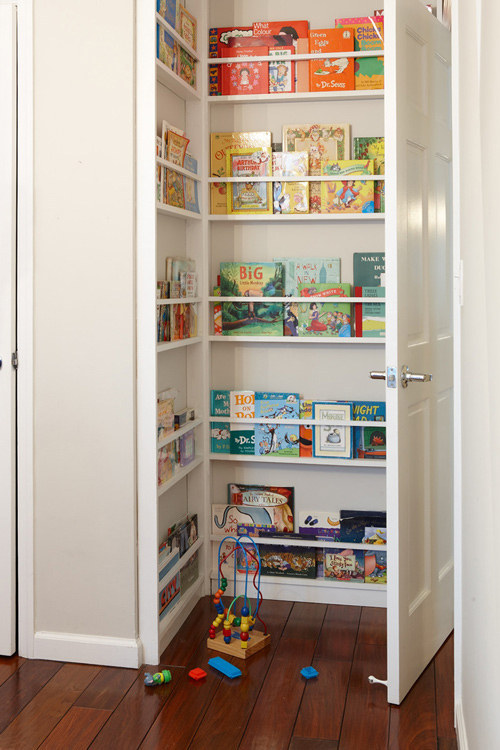 Put thin bookshelves inside of a storage closet. This will allow you to fit in a ton of books you have, but also allow you to have tons of space left over in the closet.
Use a cheese grater to store all of your earrings! They fit nicely into the holes and you can paint it to make it look nice. This is a great way to have jewelry storage if you don't have a jewelry box or way to organize all of the earrings you have.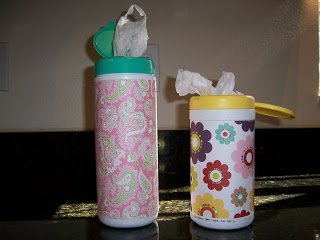 Store grocery bags in a cleaning container! Grocery bags are nice to have on hand, but can take up a lot of space or get messy easily. Store them in an empty cleaning dispenser or wipes container so that they are all in one place and easy to pull out when you need them.
Use a wine rack to hold your bathroom towels. They usually are long and skinny so you can attach it to a wall and roll up your towels to fit right into the compartments. This works perfect if you don't have a towel rack or cabinet to keep them stored in.
Use mason jars to store your bathroom items like Q-tips, cotton rounds, foundation sponges and more. Mason jars are a great size for these items and makes everything look nice and uniform.