While it's good to do things the old fashion way every now and then, you also need to try out new things and experiment a little! You might actually find that there are some great small but simple things that can really make your life easier. Here are just a few of the most brilliant life hacks that will change your life forever!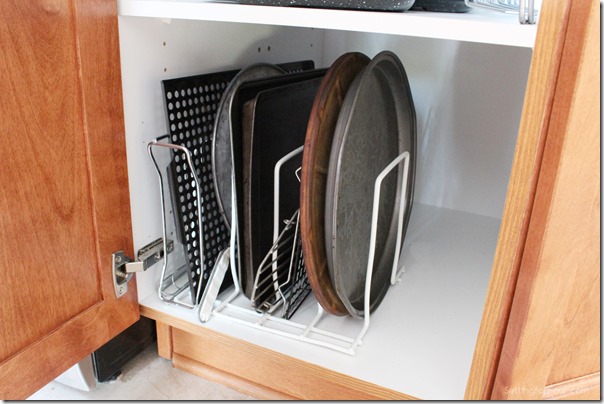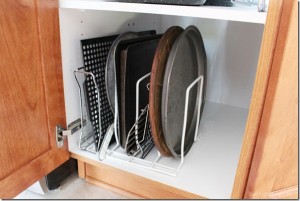 Don't just let your pans be a kitchen-cooking nightmare! Instead, organize them using a magazine rack put on its side. The pans should fit in the slots perfectly and allow you to use your vertical space without heaping everything on top of one another.
If you travel a lot, then follow this tip! When packing, don't just fold your clothes and put them in the suitcase. This takes up space and also makes your clothes get wrinkly. Instead, roll them up! It's way more space-conscious and also keeps your clothes fresher longer.
My wife loves hanging up wreaths in our home, but sometimes it's hard when you can't put a nail in the door. A great solution is to put an upside command hook on the back of the door and then wrap a piece of ribbon around that and hang it over the front side of the door for an attractive wreath holder!
If you always seem to be losing your bobby pins, then here's a great storage advice. Simply repurpose an old tic tac holder! The bobby pins slide right in and you can shake one out every time you need it!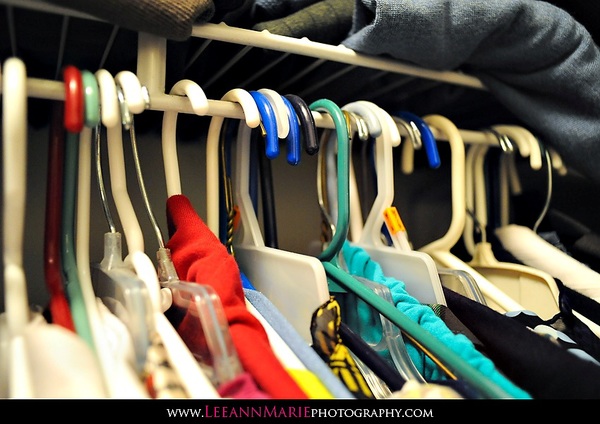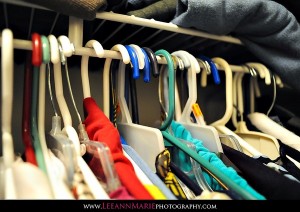 For those of you who have WAY to many clothes in your closet but don't know what to get rid of, here's an idea. Turn all the hangers around and only put them back normally when you've worn that piece of clothing. By the end of the month (or whatever timeframe you set), any hangers that are still backwards are clothes that you don't like!
This is actually a hack that could actually save your life. Keep a card visible in your wallet that says what your allergies are, your blood type, any medication you take, emergency contact info, etc. If something bad happens to you, any stranger will know the most important information about you to keep you safe.
To keep your Christmas ornaments safe and unbroken, store them in plastic apple containers or egg cartons. They pockets provide the perfect space for ornaments big and small so they don't get smashed.
Keep your closet organized by making your very own scarf hanger. Simply attach shower curtain rings to a hanger and then weave your scarves through them. This will easily give you about 10 spots to hang your scarves on from just one single hanger.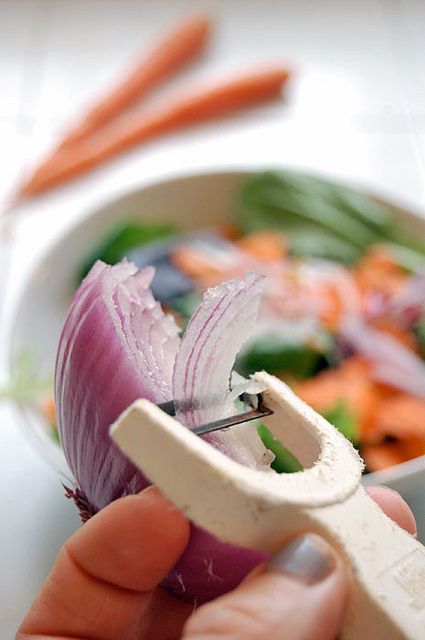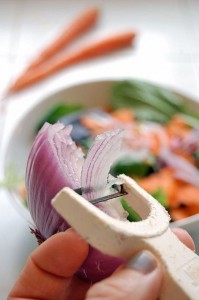 If you're in a hurry but need some onions for a soup or meal, don't worry about pulling the cutting board and knife out. Just use a potato peeler! It's way faster and still gives you perfectly shaped onion shavings!
If you haven't had time to shower but feel like your hair is greasy, you don't have to be self-conscious all day. In fact, just put some talcum powder or baking soda along your roots and it will keep the greasy shine away.
Something that drives me crazy is when rugs slip and slide all over the tile or wooden floor. An awesome way to prevent this from happening (and to make your house safer) is to use Velcro on the corners of the rug to keep it in place.
There's no need to throw away any of those markers or Sharpies that have gone dry. Instead, fill a dish with rubbing alcohol, put the tips of the dried markers in it for a few minutes, and then put the cap back on. After about an hour, the maker should be good as new!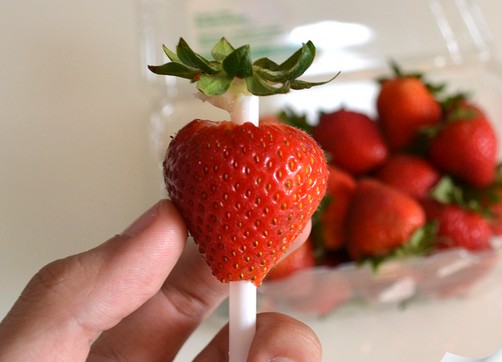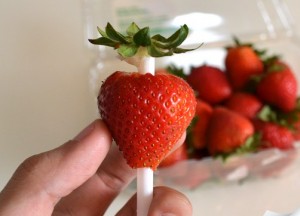 When eating strawberries, don't waste precious amounts of the delicious fruit by cutting it off along with the stem. Just stick a straw through the bottom, push it through, and it will pop the stem right off!
You don't have to stress out about dent spots in your carpet where heavy furniture used to be. Just take a fork to the patted down part and gently fluff it up with the prongs of the fork. The carpet should be back to normal in no time!
Instead of having to disinfect Legos or similar toys one by one, just put them in a mesh bag and throw them in the wash like normal! It will keep all the pieces together while cleaning them all at once!
If you love bringing necklaces along with you when you travel but never manage to keep them from getting tangled, here's a simple solution! Just thread a straw through part of the necklace and it will prevent it from any messy clumps!
For those of you with an ant problem, an expensive and time consuming fumigation may not be the best solution. First, try pouring white distilled vinegar around the outside of your home (especially near doors and windows). This should stop most ants from coming in. If not, then you can try a professional.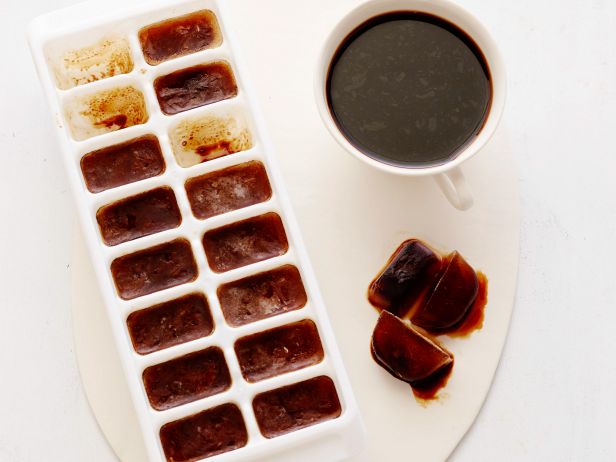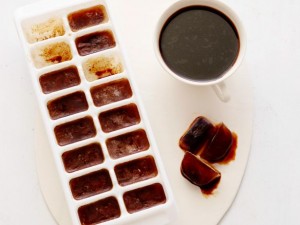 Stop your drinks from getting watered down by putting a little bit of them in ice cubes beforehand. Whether it's iced tea, lemonade, or punch, just freeze a small amount and then plop the flavored ice cubes in your drink to keep the flavor strong.
Keep your paint cans drip free with this great tip! Put a thick rubber band so it's stretched across the middle of the opening. Then, whenever you dip your brush, just run it along the rubber band and any extra paint will drip back in the paint and not on the sides!
Make beautiful cake decorations in no time by using stencils—you can even print them from online! Just put the stencil over the cake, sprinkled powdered sugar all over, then carefully remove the stencil.
Prevent your water from ever boiling over again with one simple trick! Just put a wooden spoon across the top and the water will always stay in the pan.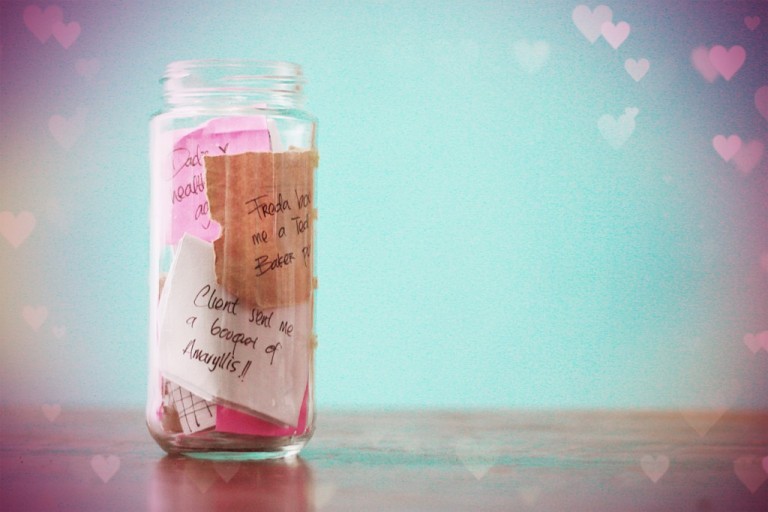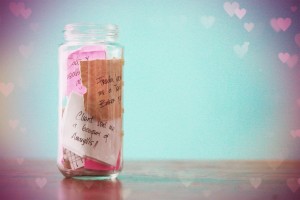 This doesn't really make your life easier, but I think it's a really fun and positive activity to do. Every time something good happens to you, write it down on a piece of paper and put it in a jar. Then, at the end of the year, read all the great things that occurred during the year. It will, for sure, put a smile on your face.
If you like letting people borrow your things but always forget who has it, then try this simple trick. Simply take a picture of your friend with the item they're borrowing and then, if you ever wonder where it went, you'll have a picture to remind you!
Lose an earring that you just can't seem to find? Put a thin sock or nylon around a vacuum tube and then run it over the carpet. The earring will get sucked up to the nylon without going down the vacuum!
This isn't always possible, but if you have to park outside during winter, then try to face your car east. That way, when the sun rises, it will immediately start to defrost your windows for you.
I didn't know this, but the easiest (and safest) way to open a blister pack is with a hand crank can opener. If it slips, it won't cut you (like scissors) and it's easier to grip.
If you live in an apartment complex and your place is far from the parking lot, then you know the struggle of having to bring groceries home. A super easy way to do this is by using a carabiner! Just slip the bags over the carabiner and then grasp it in your hand. You get numerous bags with just one hand.
Whiten your teeth a little, day by day, by swishing with peroxide for about one minute after you've brushed. Use about ¼ a cup and you'll see your teeth slowly get whiter!