Baking soda, also known as sodium bicarbonate, is not just for baking. There are lots of uses for it around your home. Here are 30 genius ways to use baking soda for a fresher, cleaner home.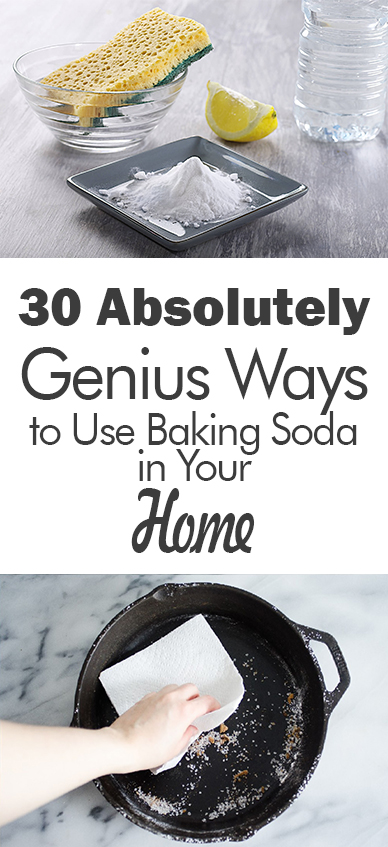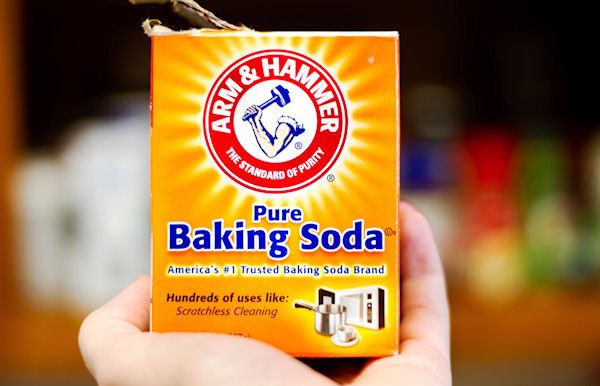 Sprinkle fresh fish with baking soda and refrigerate for one hour before cooking to reduce fish odors during cooking.
Mix one tablespoon of baking soda, salt and water. Scour cutting boards and rinse with warm water.
Clean the oven without harsh chemicals! Wet the bottom of the oven by sprinkling liberally with water. Cover with 1-2 cups baking soda. Moisten the soda with a little more water. Close the oven and let set overnight. In the morning, wipe out the oven with a wet sponge.
Get rid of burned-on gunk on pots and pans by sprinkling the bottom of the pan with baking soda. Add an inch of water and bring it to a boil. Remove from heat and sit until the water cools to warm. Use dish washing soap and a sponge to finish the job.
To deodorize plastic food containers, simply sprinkle the inside of the container with baking soda, then let it sit for a day or two. Wash as usual.
Clean and freshen hairbrushes and combs. Make a solution of 4 cups of water and 1/2 cup baking soda. Soak brushes and combs for 1-2 hours.
Give your laundry detergent a boost with 1/2 cup baking soda. This will make those stinky workout clothes smell much better!
Sprinkle baking soda inside smelly sneakers. Let sit overnight for fresher smelling shoes.
Once they smell better, clean the outside of those sneakers with a baking soda paste. Just rub away those stains, then rinse with water.
Sprinkle baking soda on the garage floor to absorb any oil from spills or leaks.
Clean and brighten the inside of the toilet bowl with 1 cup baking soda, 4 drops of Tea Tree essential oil, and 1 cup vinegar. Once it stops fizzing, scrub with a toilet brush.
Make your own soft scrub. Mix a baking soda paste and add a pinch of salt and one drop of lemon essential oil. Use to clean and freshen sinks and counter tops in the kitchen and bath.
For a great carpet deodorizer, mix one 16-ounce box baking soda with 20 drops of lavender oil and 10 drops of lemon oil. Store in an airtight container. To deodorize carpet, sprinkle the mixture over the carpet and let sit 20-30 minutes. Vacuum away!
Clear a clogged drain inexpensively!  First remove any standing water, then pour 1 cup baking soda down the drain. Follow that with 1 cup white vinegar. Let it fizz and work its magic for 10 or 15 minutes, then flush the drain with hot water.
Small grease fires in the kitchen are easily extinguished with a sprinkle of baking soda.
Clean up the stove top with a paste of baking soda and water.
Shine the chrome on your car. Make a paste with baking soda and water, and use a soft cloth to rub over the chrome. Rinse.
Remove scuff marks from floors by rubbing with a baking soda paste.
Squash garage odors by sprinkling some baking soda in the bottom of the fresh garbage bag each time you change it.
Absorb pet accident odors on carpet by sprinkling with baking soda. Let sit 30 minutes, then vacuum.
Freshen cat litter and make it last longer!  Each time you remove cat feces from the litter, sprinkle the top with a little baking soda.
Clean a coffee maker quicker and easier. To one pot of water, add 1/4 cup baking soda. Run the water and baking soda through a full brewing cycle.
Brighten silver with a paste of 3 parts baking soda to 1 part water. Rub on silver, then rinse and dry with a clean, soft cloth.
Easily deodorize the fridge. Add a few drops of lemon essential oil to one box of baking soda. Place the opened box in the back of the fridge and let it work its magic.
Clean a cast iron skillet by sprinkling with baking soda and rubbing with a wet sponge. Be sure to re-season the cast iron after cleaning.
Reduce armpit stains in light-colored shirts with a baking soda paste. Cover stains with the paste and allow to sit until dried out. Launder shirt as usual.
Clean a stainless steel sink with a sprinkle of baking soda. Rub with a wet sponge, then rinse thoroughly.
Whiten teeth with baking soda. Either add a pinch to the toothpaste on your brush, or use a baking soda paste to brush your teeth.
Make fluffier scrambled eggs. Just add 1/2 teaspoon baking soda to three eggs. Whisk together and then cook as usual.
Reduce acidity in tomato-based soups and sauces. Just a pinch of baking soda will do the trick.