We've all had it happen before….you walk away for just a minute, and before you know it, whatever you were cooking has burned right to the pan in a big, black mess. Ugh! Today I'm here to show you how to get rid of that gunk. Take your pick of one of these 8 easy ways to remove burnt-on food from pans.
1. We've all seen the hacks to turn an ugly cookie sheet pretty again, right? So try that baking soda and vinegar method on other pans, too. Just dump a nice pile of baking soda in the bottom, and pour in a cup or two of vinegar. Swish it all around to help the two mix together, and then walk away. Depending on the amount of burnt-on gunk in the pan, you can leave it for a few hours or even overnight. Then take a little scrubber and wipe out all the dissolved yuck. Easy!
2. Here's another method, with just a slight variation from the first. Cover the bottom of the dirty pan with a cup of water, add a cup of white vinegar, and bring it to a boil. Once it boils, remove it from the heat and add 2 tablespoons of baking soda. After the fizzing stops, empty the pan and scour it out as usual. If any stubborn spots remain, make a baking soda paste and let it sit on those areas for awhile before scouring again.
3. Cover the bottom of your burned pan with one inch of water. Add one tablespoon of baking soda, 3 tablespoons of hydrogen peroxide, and just one or two drops of dishwashing liquid. Bring it all to a boil, reduce the heat, and let it simmer for 15 minutes. Once it cools, rinse and wipe out any remaining stains.
4. Fill the dirty pan with water, and lay a fresh dryer sheet on top of the water. Let it sit overnight, and when you get up in the morning the gunk will wipe right off the pan. I know it sounds crazy, but try it!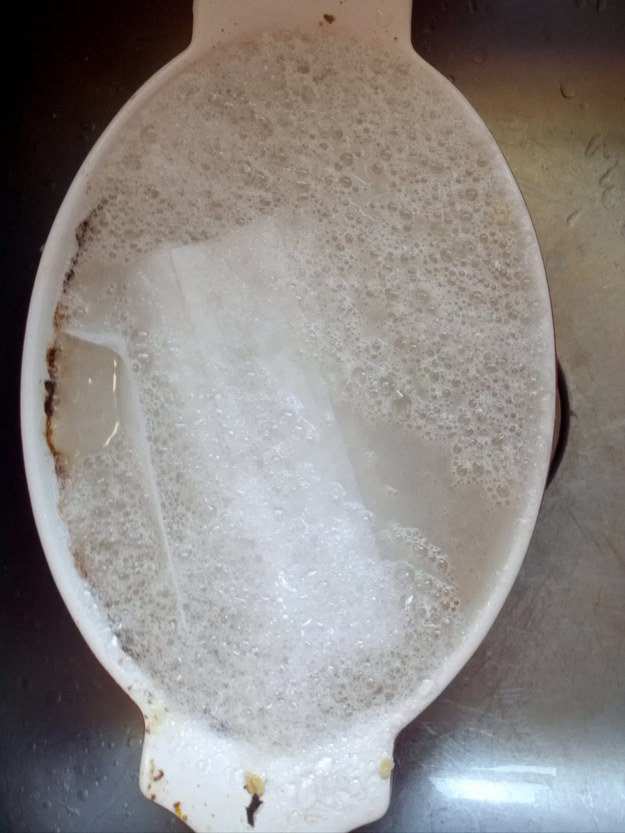 5. Take advantage of the cleaning power of your dishwasher tabs. Put an inch or two of water on the bottom of the pan, and add one dishwasher tab. Stir to help it dissolve, then let the pan soak for a few hours or overnight. After soaking, scour with a scrubber and rinse clean.
6. We all know how great Magic Erasers are–they are perfect for scrubbing lots of tough-to-clean areas. Go ahead try it on that burnt-on mess. They are also great for cleaning up the last of the gunk that another method left behind.
7. There are a couple of chemical options you can try. One is Bar Keeper's Friend. Wet the dirty pan and squeeze some Bar Keeper's Friend liberally over the burnt-on areas. Use a scrubber sponge to help the cleanser penetrate the gunk. You will probably need to use some elbow grease but don't give up!
8. If all else fails, use an oven cleaner. I like to take the offending pan outside to spray oven cleaner on the burnt-on mess, then I leave it out there to work its magic while I go inside to avoid the nasty fumes. After a while, you should be able to take the pan inside and wipe it clean.