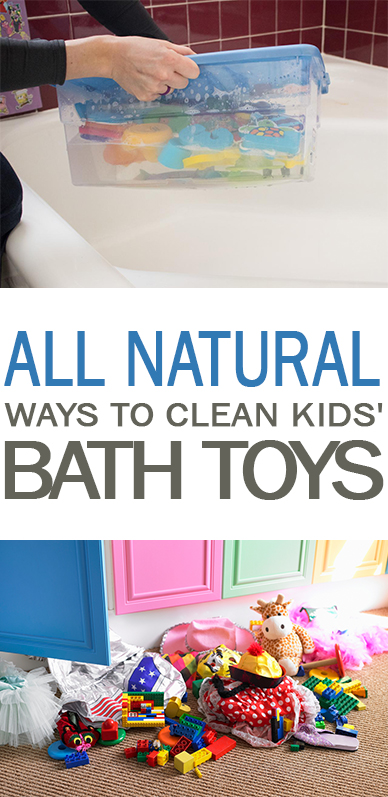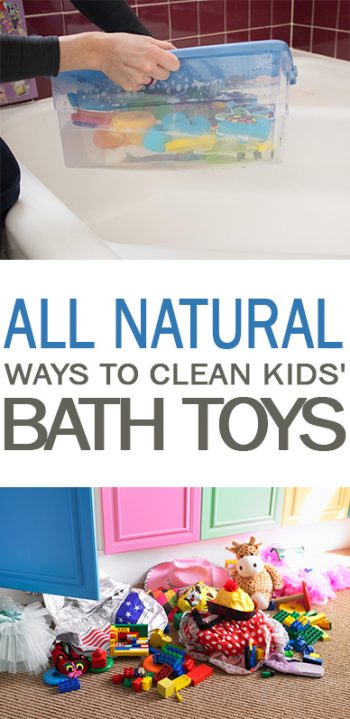 It may seem unnecessary to clean toys that spend a lot of time in a wet, soapy environment. But that is precisely why you should. You'd be surprised at the mold, bacteria and soap scum that can accumulate inside kids' wet bath toys. The following all natural ways to clean kids' bath toys will help you rest assured that they're safe to play with–free from toxic cleaning chemicals, as well as dangerous mold and bacteria.
Toys that squirt water are the most likely culprits to breed mold and bacteria, because they never quite dry out. To combat this issue, make an all-natural concentrate that will clean and disinfect the inside of the toys. Just mix 2 cups of white vinegar with 5 drops of tea tree essential oil. Suck up some of the solution with each toy. Let the solution sit inside each toy for about 15 minutes. Periodically agitate the toys by shaking them to loosen up any mold and grime inside. Once the toys have had time to soak, squeeze out the solution.
To clean the outsides of bath toys, make an all natural solution to soak them in. You need:
2 gallons of warm water
5 cups of white vinegar
3 tablespoons of an all-natural soap, such as Dr. Bronner's
10 drops of tea tree oil 
Mix this solution in a large covered bin, and add all the bath toys. Make sure all the toys are covered with solution. Put the lid on the bin, and shake it to help loosen dirt and soap scum from the outsides of the toys. Keep shaking until you see the loosened grime floating in the solution. Once the toys look like they have had a good bath, pour off the cleaning solution. Now add fresh water to the bin to rinse the toys. Once the toys are clean and rinsed, be sure to squeeze out all the water from inside the toys. Lay all the toys on a towel to thoroughly dry. Then you can put them in your toy organizers either placed in your bathroom or somewhere in your house.
Clean more of your kids' stuff here: