Getting outdoors in the warm weather and sunshine can be great and really relieve stress, but it can also be pretty hectic. Just because you're outside of your home and away from the comforts of modern technology doesn't mean you can't find some great shortcuts and hacks to make camping easier!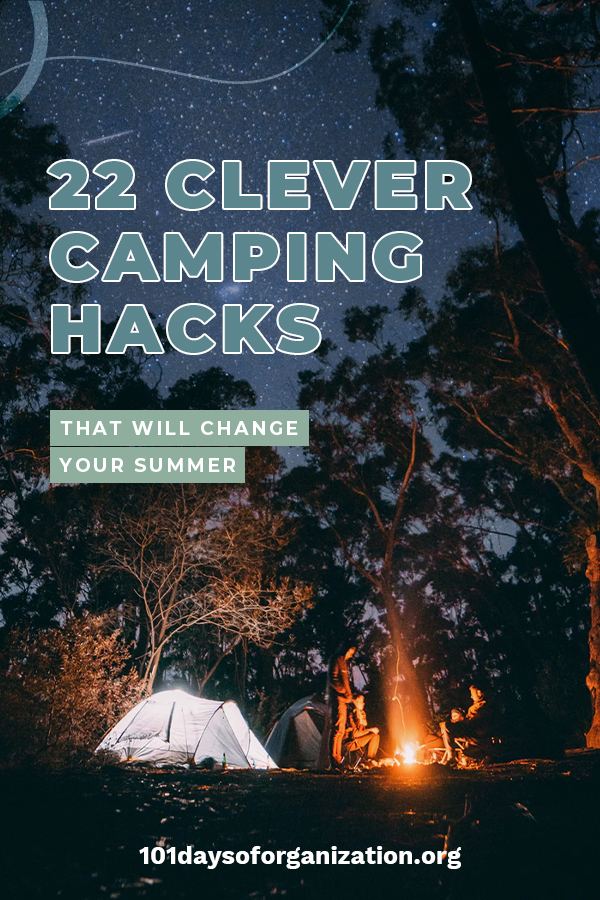 Instead of sleeping on the hard and bumpy ground, invest in some foam floor tiles (you know, those colorful tiles that fit together) and put them on the bottom of your tent. Bam, a cheap and easy solution to an age-old camping problem.
If you're like me, then you probably don't like having unseasoned camping food. However, getting the spices to the campground can be pretty difficult. That is, until now! Use old tic-tac boxes and put the spices in them. It's a cheap and portable way to have your spices without making a mess!
Instead of buying a super expensive lamp, you can get tons of light with a gallon of water and a flashlight. Just fill a milk jug with water and strap a light around it, with the light facing in. Then, when you turn the light on, it will reflect in the water and make a cheap lantern!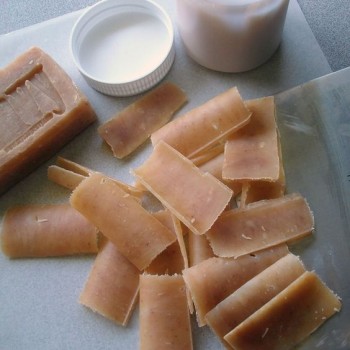 Instead of taking the whole bar of soap to the shower and having to hold it the whole time (putting the soap on the ground just seems unsanitary), use a vegetable peeler to get little soap leaves. Then, just take the leaf with you and use it all up! You won't have to worry about losing or getting the soap dirty.
You don't need to lug around the whole bag of charcoal when you go camping. That can be exhausting and space consuming. Instead, put charcoal in an empty egg container. You just need to light the carton on fire and the coal will catch fire as well.
Taking about charcoal, you can add some great flavor to your meat by burning rosemary over gray charcoals. As your meat cooks, the smoldering rosemary will add a delicious flavor to your food!
Finding and dealing with ticks that have latched onto you or your kids is a nightmare. So, fight the problem before it starts. Make a homemade tick repellent by mixing one part tea tree oil with two parts water. Then, spray the mixture onto your shoes, socks, and pant cuffs.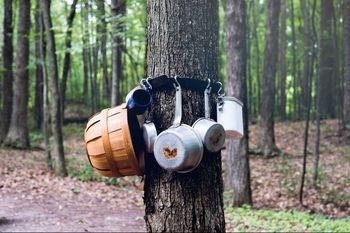 To keep your pots and pans organized, tie a belt around a tree. Then, put S hooks over the top of the belt and hang your pans from them! It saves table space and also keeps things a lot more organized.
When out camping, it's unavoidable that someone will get hurt. To be prepared, put a small first aid kit together that you can take with you anywhere. A simple solution is putting the materials in an empty pill bottle, because it will be airtight and waterproof.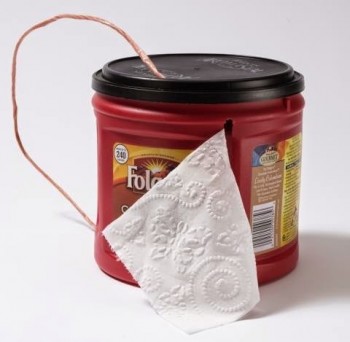 A super clever idea is this DIY toilet paper holder! Take an empty coffee can, cut a slit into the side, and then put the toilet paper inside. From there, slide the toilet paper through the slit and you've got a portable toilet paper holder!
There's no need to apply mosquito repellent every ten minutes when you're out camping. Instead, try burning some sage on the campfire. The plant repels mosquitos, so it's a great and easy way to keep yourself from getting bitten.
Starting the fire can be one of the most difficult parts of camping. To help streamline that process, dip some cotton pads in wax the day before you go camping and let them sit overnight. The wax will harden onto the pads, which you can throw into the fire pit and start a fire so much faster!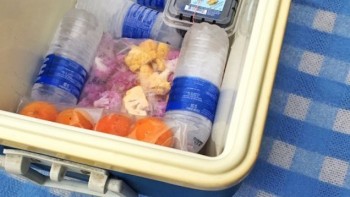 You don't need to fill your cooler with loose ice, just for it to melt and be useless later down the road. Instead, fill gallon jugs or bottles with water and freeze them before you leave. Then, put them in the cooler! They'll act as ice to keep your food cold while also becoming drinkable water as they thaw!
Traveling with rags and cloths can be pretty heavy and also be gross if they get wet and dirty. Instead, buy some heavy-duty paper towels (you can usually get them from the auto department at your local store). They still work, even when wet, and then you can dispose of them when you're done.
Take your old laundry soap container, clean it out really good, and then convert it into a handwashing station. If you keep it on the end of your table, it won't be in the way and it will make things so much easier (and cleaner) come dinnertime.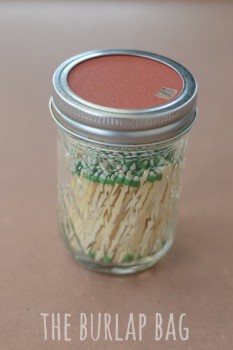 Carrying matches around will be useless if they get damp or wet. So, take the matches out of their normal container and put them in a waterproof container or jar. To make things easier, tape or attach some sandpaper to the container so that, when you need to light the match, you can.
No need to carry a whole roll of duct tape around with you. Instead, wrap the duct tape around your water bottle or other similar items. This saves space (and weight) and will also assure that you have tape on hand if there's an emergency (because you'll probably have some water around).
I love this idea! The night before you go camping, put a few dots of toothpaste out on a plate and let them dry overnight. Then, just gather the toothpaste chips into a baggy and, while camping, just pull one out when it's time to brush your teeth!
Apparently, crayons can burn for up to thirty minutes, which means they serve a duel purpose of entertaining the kids and also serving as an emergency light when needed! Carry a few crayons around in your pack just in case. They're super light, so you won't even notice that they're there.
Instead of taking a whole carton of eggs with you and worrying that they'll crack or break open, try this instead! Just crack the eggs into a water bottle before you go camping and store them in the cooler. Then, when you want eggs, they're all ready to go! Just make sure you use them soon so they don't go bad.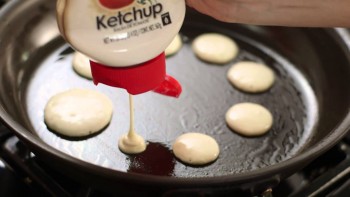 Along those same lines, you can also do that with pancake mix. Just make the mix beforehand, put it in a ketchup bottle, and keep it in the cooler. Then, when you use the mix (it'll need to be relatively soon) you can just squirt it out of the bottle instead of scooping it out of the bowl!
If you have to take your electronics with you, then make sure they don't get ruined in the rain or water. Buy a few waterproof plastic baggies (or specially made waterproof phone cases) in order to prevent any mishaps from happening.