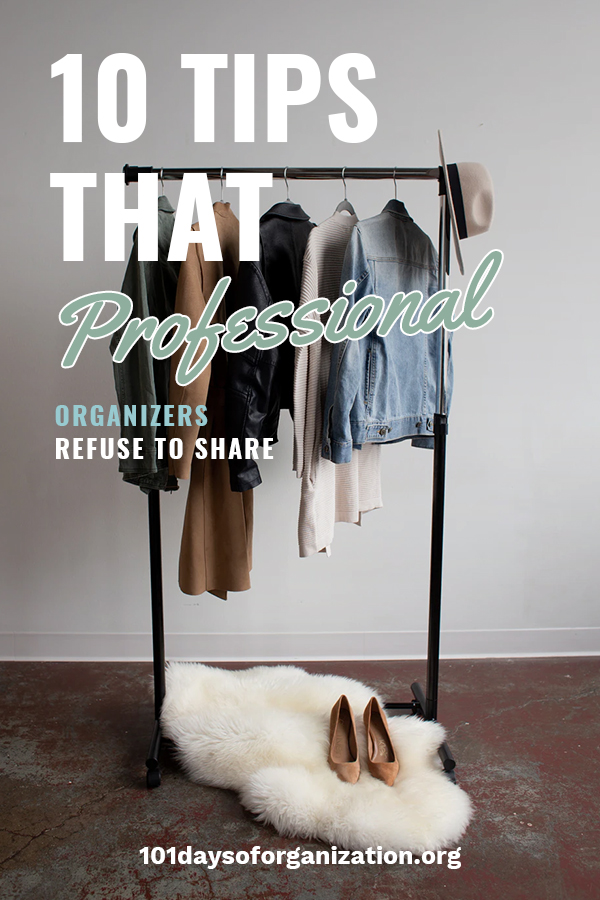 Today I have some great information to share with you. Professional organizers know all the top secrets to get control of household clutter, and they don't always like to share if you're not a paying client, but today I have 10 tips to help you get control!
1. Professional organizers make five piles whenever they declutter a room. One pile is for the trash, one is to donate, another is for passing on to a friend, yet another for moving to another room in the house, and the last pile is for "marinating." This means you aren't sure what you want to do with it yet and need time to think about it. Box up this pile and date it for six months later. If in six months you haven't opened it up, then you can safely donate or trash it.
2. Decide some pre-set rules about what you're going to keep and what you're going to get rid of. For example, anything stained or torn is an automatic discard.
3. If you've got sentimental items that don't fit with your home, don't hang onto them just because they were special to grandma or to Uncle Bill. Take a photo of the items for a memory box and then donate the item to someone who can really use it.
4. Be careful about open, flat surfaces in your home. If you have a dining table that is continually catching everything you don't know what to do with, clear it off. Put a centerpiece on it. Add place settings. That should help you keep it junk-free!
5. Anything that is set to go somewhere else should be in your car. Keep a basket or bin in there for items that need to be returned or donated. Store your coupons in a file folder in your car.
6. One of the biggest secrets of professional organizers is DON'T PROCRASTINATE! Waiting to take care of a task to be done usually just makes it bigger and more time consuming. Like those dirty dishes that have been sitting in the sink.
7. Unless you're actually in between homes and waiting on a build, storage units are a waste of money. Why pay to keep storing stuff you don't use? A professional organizer will tell you to get rid of it. All of it.
8. Parents hate to toss their children's artwork. So a great solution is the Li'l Davinci Art cabinet. It's a frame that holds up to 50 pieces of artwork, so you can store them and switch out the one in the front periodically. Genius!
9. The most important tip for closet organizing is to group things by type. Shirts hang with shirts, dresses hang with dresses, etc.
10. Uniformity is a great motivator! Using the same hangers, matching shoe boxes and coordinating bins will motivate you to keep the clean and orderly look.