Calling all bakers! Have you dreamed of the perfectly organized baking cabinet, complete with everything you need whenever you need it? You're not alone! But an organized baking cabinet needn't be just a dream–make it your reality and fast. Here are some great tips to help you organize all your baking supplies in flash!
Choose a cabinet near an outlet, and designate it to be where all your favorite baking supplies go, including ingredients like chocolate chips, brown sugar, and nuts. At A Bowl Full of Lemons, you can see how Toni set up an organized baking cabinet.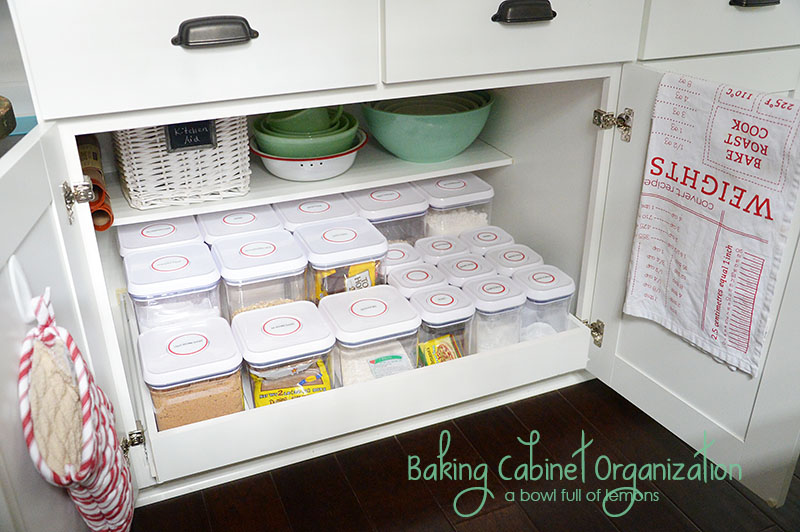 Bakerella stores her extensive sprinkle collection just like she stores her spices. Isn't it pretty?
Buying in bulk can be great for your wallet, but hard on your pantry. Get extra storage space for your baking supplies with something like IKEA's Raskog cart. Thanks for the idea, Carol!
Over at My So-Called Home, even the back of the cabinet door is utilized. It holds measuring cups and spoons for the ultimate in baking cabinet organization.
Corral cupcake liners in mason jars. If you add a clever little chalkboard label, it takes the cuteness over the top.
Storing baking pans is much better if you store them upright. It's much easier to see what you've got, and you can grab what you need in a flash.
Open shelving can be an organizer, space saver and a décor draw all at once. Tori Jayne's kitchen is a prime example! Everything stored in the open is color-coordinated and looks like it just belongs.