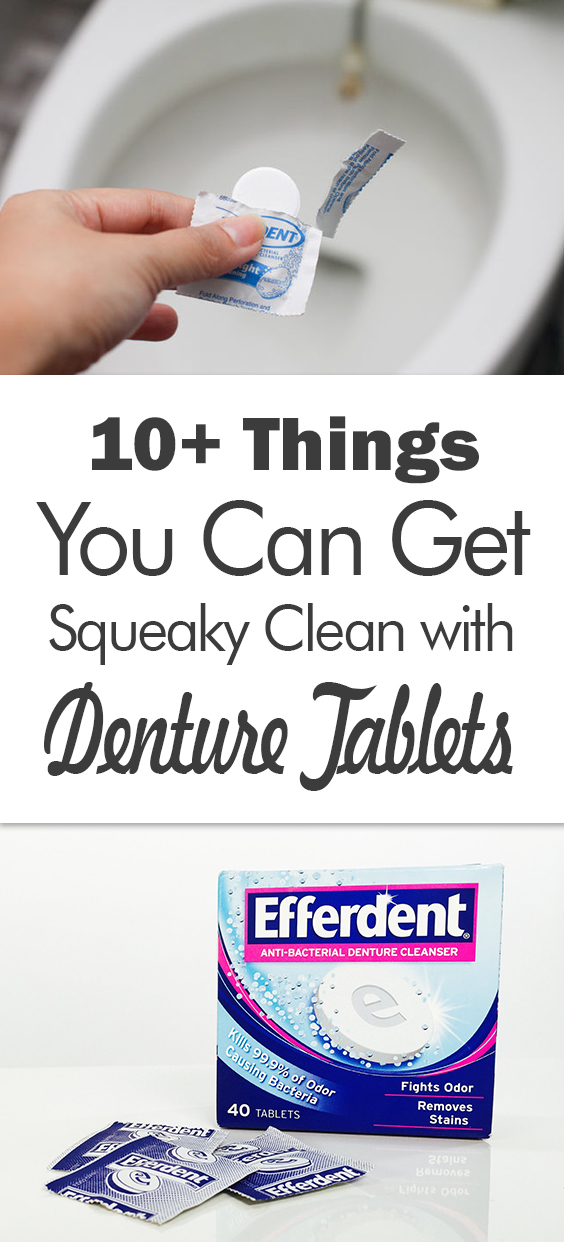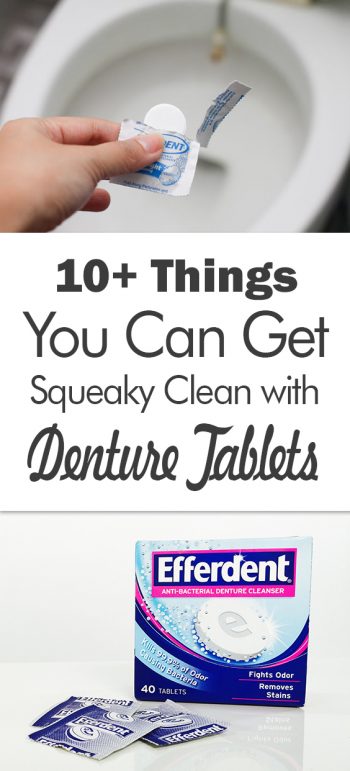 Denture tablets are the best way to remove dirt and stains from dentures, but you don't even need dentures to need the cleaning tablets. Think about it–they're really great at removing stains, so they could be just as great at removing stains from more than just dentures. It's actually a proven fact, so here are 10+ things you can get squeaky clean with those magical tablets.
This brand right here is an Amazon best seller, so for a large supply at a great price, click here.
Get ready to clean all these things and more with denture tablets:
You don't have to tolerate spaghetti sauce stains in your plastic food storage containers. Just fill them with warm water, add a couple of denture tablets, and after an hour or so the stains will be gone.
Food stains in your linens can be pretreated with denture tablets. Fill a bucket with warm water, add 2-3 denture tablets and the soiled linens. Allow them to soak for 20-30 minutes, then launder as usual.
For a clogged or slow drain, break up 3 denture tablets and drop them into the drain. Follow them up with a cup of white vinegar. Once the fizzing stops, flush the drain with plenty of hot water. Repeat if necessary.
You know how your coffee mugs get stained over time in spite of regular washing? Denture tablets can dissolve those stains, just like they do for your dentures. Fill the stained mugs with warm water and add a denture tablet to each. Once the fizzing stops, hand wash the mugs and they should be stain-free.
Vases with narrow necks are a pain to wash and actually get clean–but not with denture tablets. Fill the vase with warm water, add one tablet, and let it soak for awhile. Rinse well and dry. It should be much cleaner!
To loosen mineral deposits in your jetted tub without scrubbing, just fill and add half a dozen denture tablets. Let the tablets work their magic for an hour or two, then drain and rinse.
For gold and diamond jewelry, soak them in warm water with one denture tablet. It really loosens dirt and build-up so your diamonds will sparkle like new. Note: this method is not safe for silver or pearls. 
Clean your toilet bowl with less scrubbing! Just drop in 2-3 denture tablets. Wait for about 30 minutes and then scrub and flush.
If you're a hiker and you carry a hydration pack, then you know how hard it is to clean the inside of the bladder. But if you just fill it with warm water and drop in a couple of denture tablets, they'll do the work for you. Soak for 30 minutes, then rinse well. Why didn't I think of it sooner?
Drop 2-3 tablets in a big bowl of warm water, then drop in your brushes and combs for a good soak. This is an easy way to loosen dirt and build-up from hair products.
Remove hard water stains from your coffee maker with denture tablets. Fill the tank with warm water, drop in two denture tablets, and run the coffee maker through a regular cycle. Rinse and then run another cycle with fresh water only.