Getting organized may seem like a completely overwhelming (and expensive) task, but it is not nearly as bad as it sounds. Especially with these genius storage solutions. Seriously, some of these don't even require a trip to the store!

1.  Use an old CD rack to organize your tupperware lids. Keep the larger lids toward the back so all of your lids are easily viewable.
2. If you can never seem to keep your desk clean, try turning a wine rack into an office supply holder.
3. Perfect for craft lovers who can't seem to keep their ribbons organized, use a paper towel holder to keep ribbon from tangling.
4. If the CD rack tupperware container wasn't working for you, try using a hanging fabric organizer instead. Tutorial here.
5. If you have tons of game cards lying around, keep them together with a plastic soap container. They're the perfect size!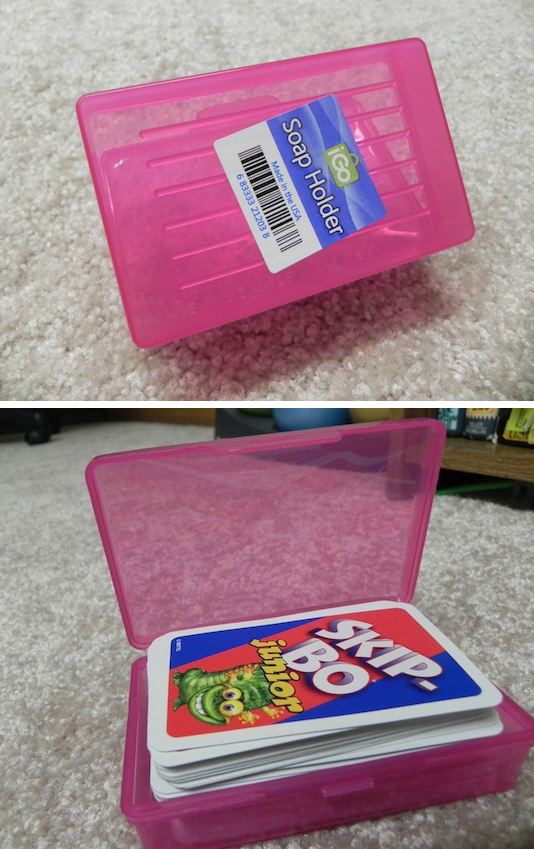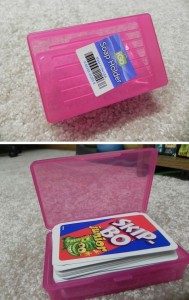 6. Cabinet space is some times hard to come by, instead of stacking your plates on top of one another, invest in a plate cradle.
7. Storing baseball hats can be strangely tricky. Use a curtain and shower curtain rings to hang your hats easily.
8. Get rid of the bathroom product overload under the sink. Utilize hanging baskets on the backs of your cabinets. You just doubled your storage capabilities!
9. Store seasonal wrapping paper in a metal trash can. It's the perfect size!
10. Turn old egg cartons into a storage solution for your kitchen drawers. Locate that utensil easily!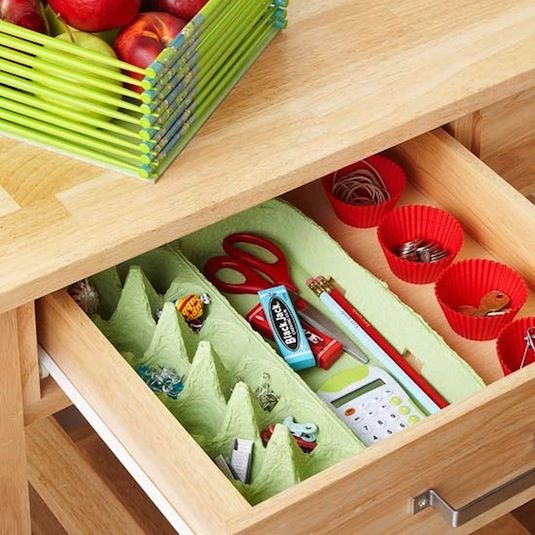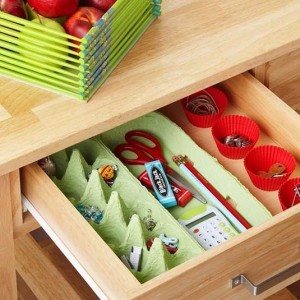 11. There just really isn't a way to store Christmas lights effectively. Until now! Recycle pieces of cardboard, and wrap your lights around them. You can fit many into a box, and things will stay tangle free!
12. Organize your linen closet, with linen! Fold up your sheets and use their corresponding pillow cases as a holder.
13. Store your batteries with in an old tackle box organizer. You won't have to hear them rolling around a drawer anymore!
14. Organize jewelry by putting ice cube trays inside your drawers. This provides an inexpensive organizer.
15. Store your metal hygiene tools (bobby pins, nail clippers, etc.) on a magnetic strip. Always have a bobby pin when you need it!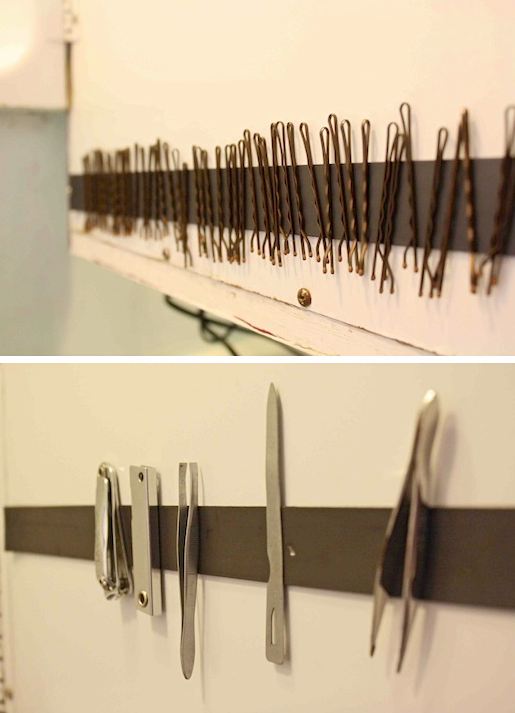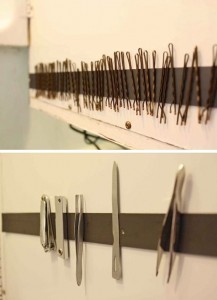 16. Towels can be so hard to decorate with. Roll up your towels and use a wine rack as a decorative towel holder.
17. Cut a piece of PVC pipe and attach it on the inside of a cabinet. These are the perfect size to store your hair tools.
18. If you have kids, chances are you have crayons all over the house! Recycle a baby wipe container, and put your crayons inside. Effective and a great way to repurpose unneeded items!
19. Store your ziplock bags in an old magazine holder to keep your cabinets and drawers from looking cluttered.
20. Use old door handles as a way to hang up your hand towels.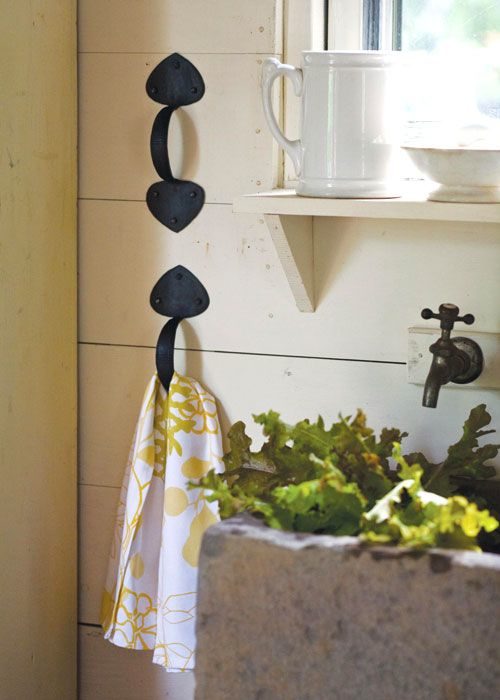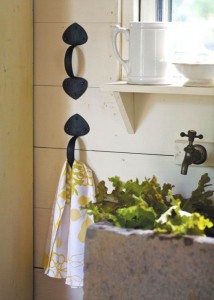 21. If you are a scrapbooking guru, store your scrapbook papers in a filing cabinet, you'll be surprised at how much space those booklets take up!
22. Keep your gardening tools handy by using an old mailbox in your garden. The mailbox protects the tools for the elements, keeping them rust free!
23. Mason jars can be used to store anything. Incorporate them into your bathroom (think cotton ball storage), bedroom, kitchen, and office!
24. If you need a new nightstand, use a vintage luggage piece to create one. It looks totally unique, and you can store things inside of it!
25. Visit your local grocery store and pick up their old wine containers. The containers make for a perfect way to store sandals and other shoes.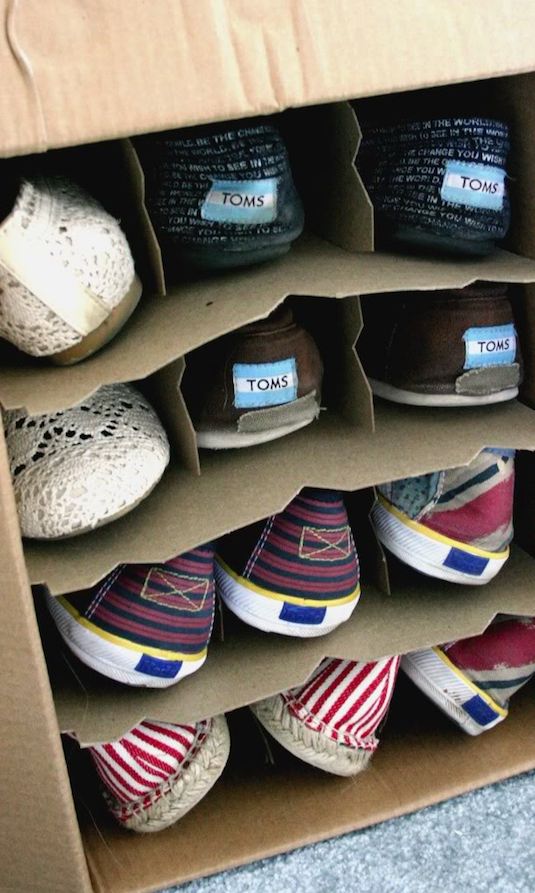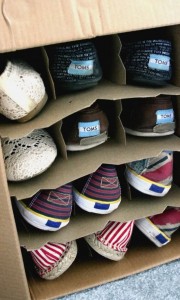 26. Store pots and pans on a pegboard installed in your kitchen. This will take care of any cabinet space issues!
27. If you are a certified clothes hoarder, use a coatrack to create a clothes hanger on wheels. Perfect for seasonal pieces. Tutorial here.
28. Maximize a small office space and use filing cabinets as desk legs.
29. Use wall hooks to hang purses vertically.
30. If you can't figure out a cohesive way to bring the outside in, use this tutorial to create a mossy organizer.