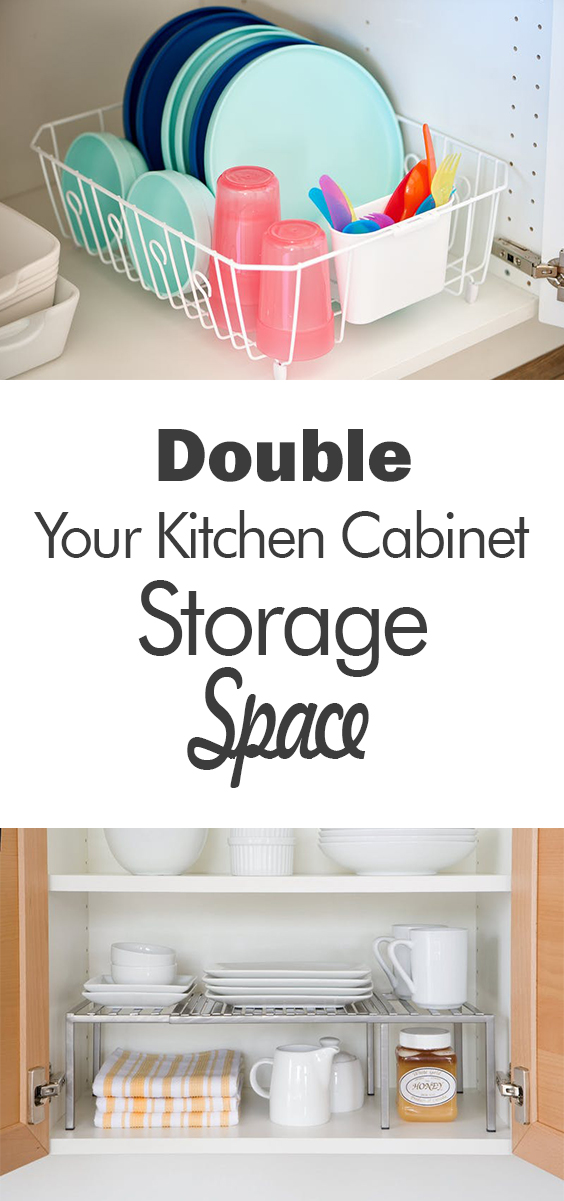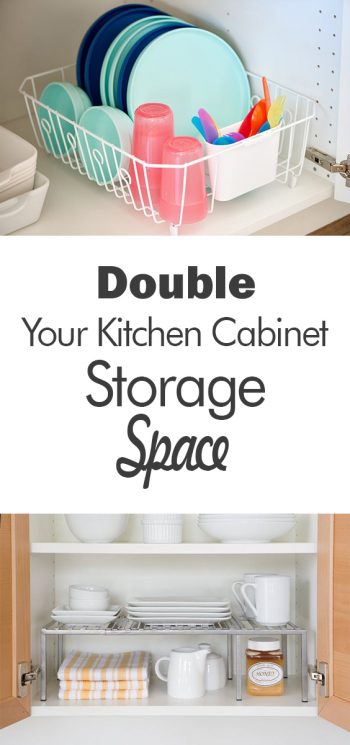 Today we are talking about kitchen cabinet storage. I know a lot of us feel like we don't have enough, so let's talk about how to double the space we have. Here are some easy kitchen cabinet storage hacks everyone needs to know!
Take a good look at the current condition of your cabinet storage. Do you have any shelves that have wasted space at the top? Consider adjusting your shelves. You don't have to leave them in their current positions out of habit. Make them actually work for you!
If you have any shelves with extra space at the top but no extra shelf to stick in there, purchase some shelf risers at Amazon. They are a fast and easy way to add tons of extra kitchen cabinet storage space.
Stacked file holders, traditionally used in an office space, also work great to stack baking sheets, pans and lids. It works with the slats either vertical or horizontal, so do what works best for your space.
Use an inexpensive dish rack from Dollar Tree to store all the kids' or grandkids' plastic dishes in one spot. It's amazing how many things you can fit in there. I think this is a genius kitchen cabinet storage idea! 
Add small hooks to the inside of your cabinet doors to hang small items like measuring spoons and mixer attachments. This storage hack keeps these items from getting lost in a drawer, and saves that drawer space for other things.
The sides of your kitchen cabinets are typically wasted space. Instead, install some shelves to store items such as decorative dishes and cookbooks.
Stackable, streamlined containers are a great way to improve your kitchen cabinet storage. It looks neater and really does give you more space to work with!