Is it really possible to get a clean house in under 2 hours? The short answer is yes! It may not be a spring cleaning level of clean, but it's very presentable. Here's how.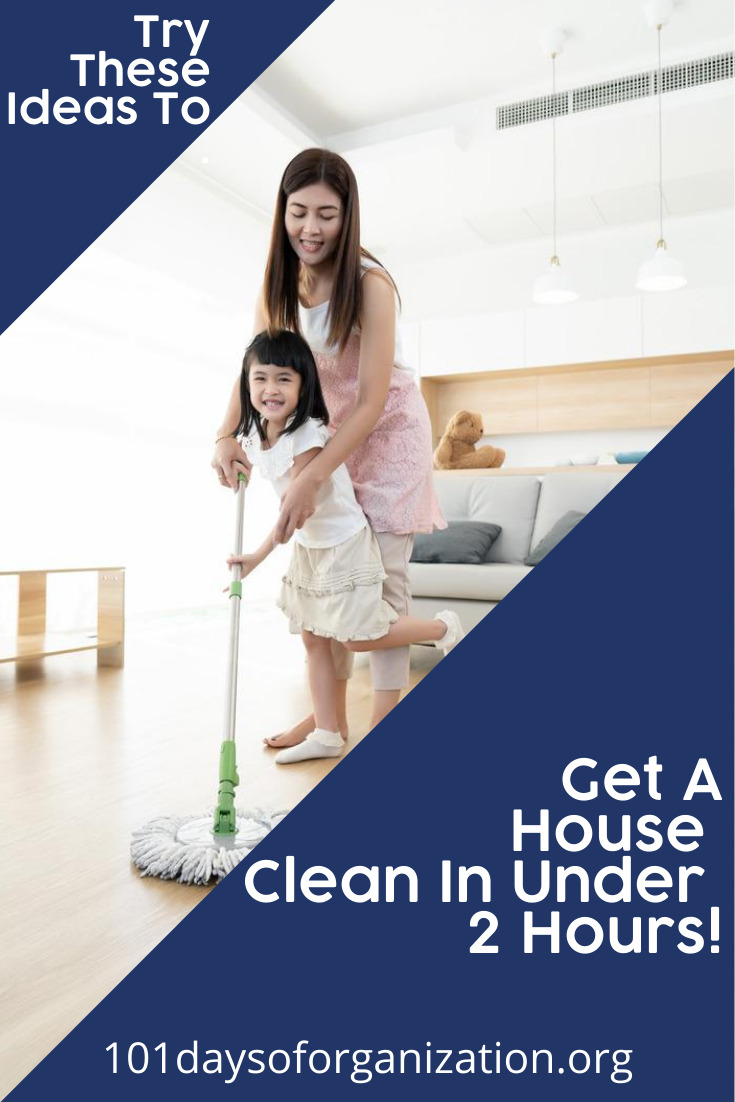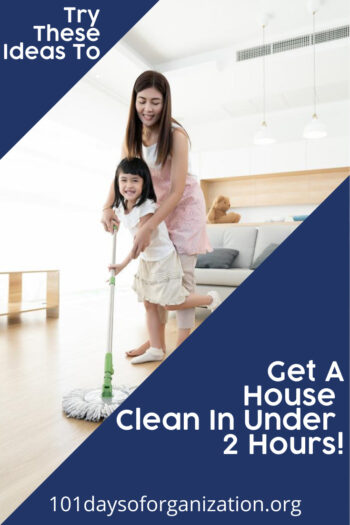 Steps to Get a Clean House in Under 2 Hours
Keeping the house clean can be a struggle, but I have some tips that help me keep it manageable. They may not give you a deep clean, but put these tips in place to help you stay on top of things. And if company comes over, you'll feel prepared! Here are the steps to get a clean house in under 2 hours. 

Round Up the Bed Linens
If you're like me, then cleaning your house includes laundry. So the first thing to do is go and collect all the used bedding in the house. While you're at it, sprinkle a mixture of baking soda and essential oils onto the mattresses to freshen them up.

Start the Washer and Dishwasher
Toss the dirty sheets in the washing machine. Be sure to move them to the dryer when the wash cycle ends. After you start the washer, load all the dirty dishes in the dishwasher and either run it or set the timer for later. While you clean the rest of the house, the laundry and dishes are also being cleaned. 

Tidy Up to Get a Clean House
Next, grab a laundry basket and go from room to room to pick up items that don't belong. Transfer them to their rightful places. Tidy up as you go and make sure that everything looks as you want it. Do double duty and dust each room as you go.

Clean the Kitchen & Bathrooms
Once other rooms are tidy, move on to the kitchen and bathrooms.  Start from the top–wipe down walls, mirrors, cabinets, counters, or anything that you see needs a wipe down. 

Sweep Floors
After you clean the bathrooms and kitchen, sweep and mop the floors in each room. Wherever those butt up against carpet, sweep tiny dirt particles onto the carpet–you'll vacuum them up in a few minutes! 

Vacuum
Now break out the vacuum and go through all the rooms. If you sprinkled baking soda on your mattresses, vacuum it up while you're in those rooms. Clean sheets go on the beds at this point. Check out my vacuum hacks! 

Final Steps to Get a Clean House in Under 2 Hours
You're almost done! All you have to do now is get the sheets out of the dryer, fold them and put them away–or remake the beds with them. Time to unload the dishwasher and put away the clean dishes. And that's how to get a clean house in under 2 hours! 
Editor's Note: This post was originally published in July 2016. It has been updated for accuracy.