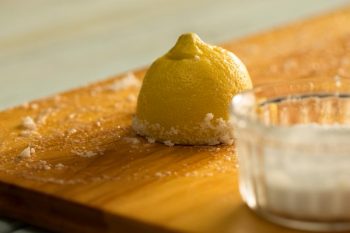 Sprinkle kosher salt onto your cutting board and then use half a lemon to rub it around. This helps sanitize and deodorize your cutting board.
You don't always see it, but your oven vent cover can get pretty nasty pretty quick. Clean it by boiling water, slowly adding baking soda, and then dipping your vent cover it in. The heat and baking soda will melt away all the grease and gunk.
Put a cup of vinegar on the top rack of your dishwasher and run it. This helps break down any nasty buildup that may be in your dishwasher.
Alternatively, you can put some lemon Kool-Aid in the soap dispenser and run the dishwasher as well. The acid in the mixture helps get rid of any buildup.
Take your burners and stick them in a bag with ammonia in it. Seal the bag and let them sit for a few hours. When you pull the burners back out, you should be able to easily wash away any gunk and grime.